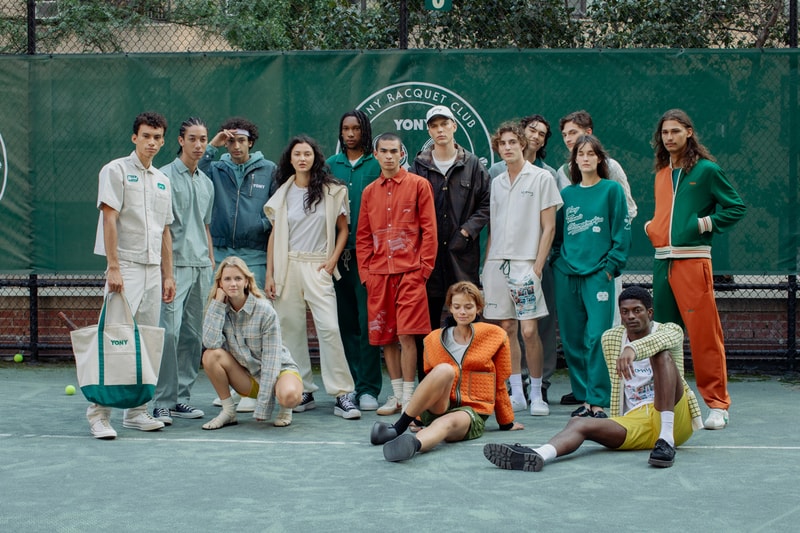 Tennis isn't just a trendy aesthetic or a timely sliver of the cultural zeitgeist for YONY's founder and creative director, Johnny Schwartz; it's personal. "I've been a tennis player my whole life," Schwartz told Hypebeast. "We're not just using it as a visual motif. There's actual functional pieces in here." For YONY's New York Fashion Week debut, the menswear label took over Manhattan's elite tennis club, Town Tennis, to show off a refreshing and versatile ready-to-wear collection.
With YONY, Schwartz finds himself looking to his dad's era of 1950s Brooklyn for inspiration. Tapping into the styling and conceptual choices of that period, Schwartz first launched the "YONY Racquet Club" for the Spring/Summer 2021 collection, aiming to "emulate the Saturdays [he] spent watching [his] dad and his buddies play tennis, drink coke and shoot the sh*t." In his latest iteration of the "YONY Racquet Club" motif, Schwartz cements his personal ties to the sport and draws from its modern implications in order to exemplify, as he puts it, "why it should be cooler than it is."
"I wanted to further explore this aesthetic through the lens of 1950s style," he explains of the collection's inspiration. Models hit the Town Tennis courts donning matching pastel-hued sets, practical workwear shirts and an array of knitwear, both classic and inventive. They leaned into the NYC-wide U.S. Open spirit and even engaged in mini tennis matches – flexing firsthand how fashion meets functionality in Schwartz's latest collection.
Schwartz wants us to know he's not just another contemporary sportswear or menswear brand jumping on the tennis wave temporarily. Through his usage of personal detail, such as the implementation of hand-painted tennis scenes and a piece that features his an embroidered portrait of his father, he makes his undying connection to the sport and its aesthetic apparent.
Have a closer look at the collection's pieces in the gallery above. Catch up on all things New York Fashion Week on Hypebeast.
Click here to view full gallery at Hypebeast
Please follow and like us:
About Post Author
This article was originally published on this site