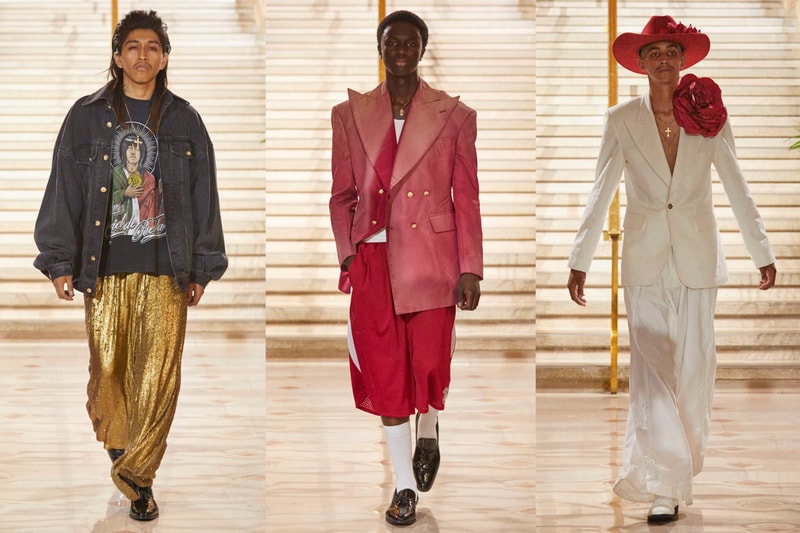 "This was my most emotional collection," said a pensive Willy Chavarria, backstage after his Spring/Summer 2024 show. Held in the grand lobby of Manhattan's Woolworth Building, the New York designer's showcase articulated something more intimate than his previous offerings. "Last season was a palette cleanser," he said, referencing his tailored all-black lineup for Fall/Winter 2023. "This season was my most aunthentic as a designer. I really dug into my own personal influences."
Those influences, most notably, included the "machismo" of the generations that came before him — more specifically, the hats that his father and grandfather would wear while working long days in the fields of San Joaquin Valley. "It's a symbol of manhood," said Chavarria. "The idea of machismo has been so broken down. It doesn't mean the same as it did before. So that's why we see the hats on all kinds of people in the collection."
The hats, often adorned with red roses, were only the beginning of Chavarria's expansive output, which crossed through sportswear, eveningwear, streetwear and underwear all at once. White blazers were paired with ultra-wide trousers and frequently finished with colossal boutonnieres. Casual sweaters, worn with below-the-knee shorts, hosted Spanish text reading, "Grupo Nueva Vision Por Vida" (The New Vision for Life Group); and later on, formal ensembles turned navy, with waist-hugging jackets and khaki pants with ever-so-slightly-dropped crotches.
Dress codes collided in several ensembles, including one that paired red athletic shorts with a faded double-breasted blazer — perhaps ideal for those with basketball games and prom scheduled on the same evening. This duality is central to Chavarria's coined design ethos, and it appeared throught: sparkly trousers acquainted themselves with pared-back button-up shirts and graphic tees; glittering tops met jogger bottoms, and jersey tops got to know dress pants.
Tank tops and underwear (a new category for the brand) were intentionally tethered and deconstructed. Another pair of sports shorts were also destroyed, but a sequin turtleneck offered savior from their dark place. Contrasting this ruin, the collection finished with three romantic gowns — in red, black and white — that carried fanning trains through the venue. It wouldn't be a Willy Chavarria show without a punch of drama.
Following the runway, Chavarria and his entourage hosted a celebration inside BOOM atop The Standard High Line, where YG delivered some famous bars to cap off New York Fashion Week.
See Willy Chavarria's Spring/Summer 2024 collection in the gallery above, and stay tuned to Hypebeast for more New York Fashion Week coverage.
Click here to view full gallery at Hypebeast
Please follow and like us:
About Post Author
This article was originally published on this site