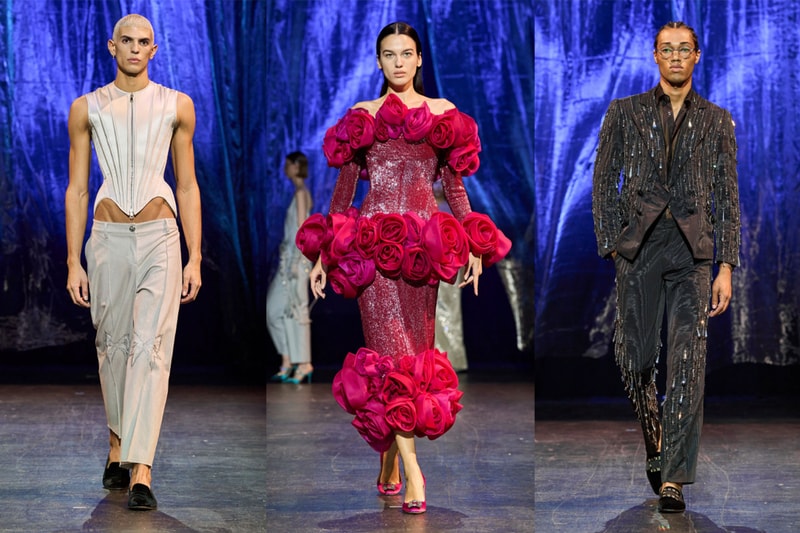 Inside the La Mama Experimental Theater Club in New York's East Village, Jackson Wiederhoeft's Spring/Summer 2024 collection met fashion's showgoers in a medley of choreography, performance and runway. While attendees found their seats, a legion of Wiederhoeft models in peachy ensembles took to theirs, forming a half-circle in the center of the venue. Lights dimmed; the crowd hushed, and immediately, the first act began.
While the campy models folded and moved their chairs to form a makeshift catwalk, another model emerged in a glass-beaded satin dress to maneuver the lifted walkway. The others pretended to record the moment with imaginary phones, poking fun at what fashion week has become since social media's takeover. The group then played "Duck, Duck, Goose" before transforming into classroom students, with the story's hero performing as their instructor.
Then, the full collection took form. Models commanded attention in a bevy of playful (but still wearable) silhouettes: a collared black dress was tied tightly around the right side of its wearer's waist in one look, while another included a zippered corset top and low-rise khaki pants that were decorated with glittering bow-ties on the knee. That same motif was then blown up on the center of a reflective Victorian dress with dramatic, regal shoulders, worn by Richie Shazam.
Silky textiles offered a signature shine to much of Wiederhoeft's silhouettes — among them, the line's pink V-neck gown and crystal-embossed skirt were particularly opulent. There was a suit that employed familiar glass beading all over its blazer and dress pants, while a number of small tops adopted similarly grandiose adornments for that extra oomph. The collection's hero was a sparkling pink dress that was lined with three-dimensional roses across its chest, waist and legs. This reminded onlookers of Wiederhoeft's technical talent, one that can lean into couture — when he lets it.
In the finale, a model confidently stomped down the runway in a light pink dress, followed by a squad of synchronized men wearing cropped tank tops reading "SECURITY." They steered the stage alongside a glitter-glued trio that looked on the hunt for downtown's best club, as well as two poodle-like dancers and a woman wearing a silver, billowing gown. The eclectic group constructed a tower of chairs in the center of the floor that ultimately collapsed, marking the show's conclusion. That's showbiz.
See Wiederhoeft's Spring/Summer 2024 collection in the gallery above, and stay tuned to Hypebeast for more New York Fashion Week coverage.
Click here to view full gallery at Hypebeast
Please follow and like us:
About Post Author
This article was originally published on this site