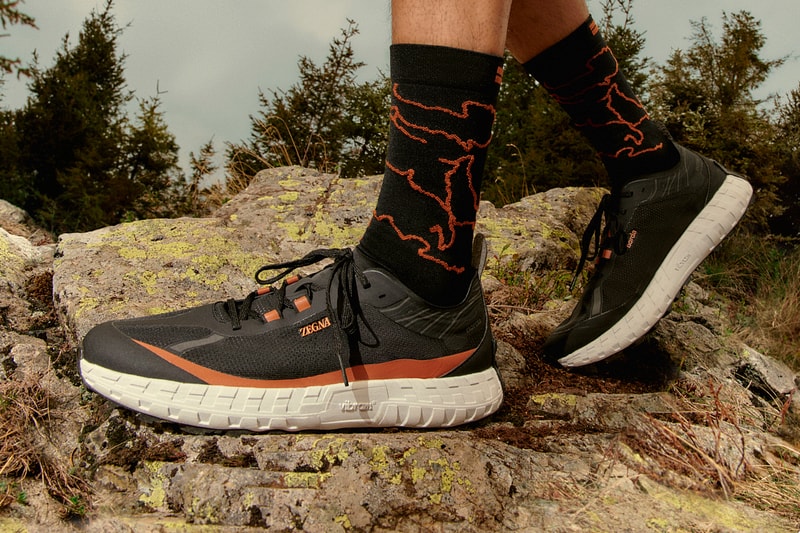 One's a century-old Italian luxury fashion house with an all-caps name while the other is an upstart Canadian footwear brand that prefers a more mellow lowercase stylization, but ZEGNA and norda are held together by many a common thread: uncompromising quality, attention to detail and a keen eye for the world's finest materials, to name a few. Now, their fields of expertise are colliding as they've come together for a co-created collection of apparel and footwear inspired by a shared love of nature.
The centerpiece of the collection is three takes on the norda 001 trail running sneaker — black/orange/white, all black and olive/neon yellow/white — each built with norda's custom bio-based Dyneema upper plus a Vibram Litebase midsole and Megagrip outsole. Though neither brand is logo-driven and prefers to let the quality of its pieces speak louder than its branding, there is a clever flip to be seen here as the standard norda logo on the lateral midfoot is replaced with a ZEGNA wordmark. Besides the sneakers, the collection also consists of a full set of co-crafted apparel in matching tones: lightweight jackets, tees, shorts and more. Each piece from the collection is on display across its lookbook, which shows some of the world's finest trail runners like Marlon Patrice, Thea Klaeboe Aarrestad and Koby Pederson traversing the Oasi Zegna, ZEGNA's 100km natural territory in Piedmont, Italy.
"We are proud to share the Oasi Zegna experience with our running community, through our collaboration with Zegna," said norda co-founders Nick and Willa Martire. "Their passion for craftsmanship and 110+ year commitment to sustainability and innovation is remarkable and a future norda aspires to create."
To learn more about how ZEGNA and norda brought their worlds together, Hypebeast spoke with ZEGNA artistic director Alessandro Sartori and the Martires about where the spark for their collaboration came from, their shared values and their love of high-quality, Earth-friendly materials.
---
Where did the spark for this collaboration come from?
Alessandro Sartori: ZEGNA is always looking for excellence in every category of product, and we love the outdoor mindset. Every road and path at ZEGNA starts for and leads to Oasi Zegna, a natural territory surrounding the Zegna Wool Mill which represents our ethos and a source of continuous inspiration for our sustainable commitment. For these reasons, it was normal for us to invite norda, the best running shoe company in the world, to come to Oasi Zegna and tell our stories through their eyes.
Willa and Nick Martire: ZEGNA reached out to norda in FW21, and we bonded over a relentless mutual passion to create the finest products.
"Communicating through action versus logos is our way."
Neither brand is logo-driven — more material-driven. How do you communicate your brand ethos in a world that can sometimes seem logo-obsessed?
WM: Communicating through action versus logos is our way and there is sort of an unwritten code: if you know, you know. Both norda and ZEGNA have founding stories and roots in the natural landscapes that are home to our brand values. We share a love of nature and sustainability along with a deep commitment to design quality and craftsmanship.
How does this collaboration enable each brand to speak to a different audience?
AS: Luxury outdoor goods have expanded as a lifestyle trend, so the collaboration enables us to speak to an authentic audience that appreciates and expects experimentation.
What, to each of you, is the most inspiring thing about the other's work and brand?
AS: norda represents the best of science merging into art. Thanks to this ethos they were able to create the lightest and strongest shoe ever built. They are the best players in both footwear design and performance. The level of detailing and quality control we applicate when creating a ZEGNA item is the same they apply in the design and technicality of their footwear.
NM: Norda entered the running market as a total disruption and built upon everything which had been done before. When ZEGNA chose us for this collaboration it opened us to a new set of possibilities, and we like to challenge the status quo.
---
The ZEGNA x norda 001 will release on the ZEGNA webstore and at the brand's global network of stockists on March 6. It's priced at $595 USD.
Click here to view full gallery at Hypebeast
Please follow and like us:
About Post Author
This article was originally published on this site