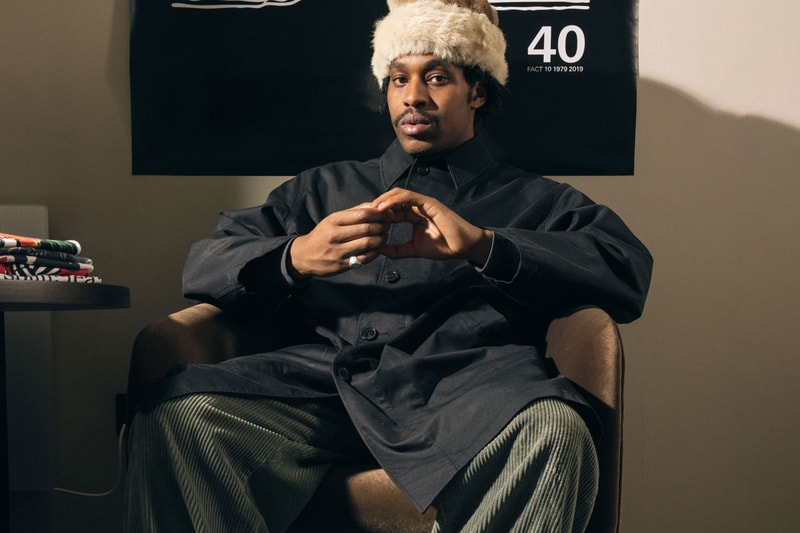 From Lauryn Hill and Tupac to Oasis and Grateful Dead, the influence '90s music has had across the world since its inception has been undeniable.
While music has travelled far and wide and remains on millions of playlists across modern-day streaming platforms, its history is still accessible in one of its purest and most nostalgic forms: vintage T-shirts.
Though the industry is now highly saturated and the legitimacy of styles is harder to discover than ever, there's a gigantic pool of consumers who are still continuing to build their collections every day – and the same goes for those supplying them. That's why 33-year-old Ladi Kazeem, owner and founder of the Vault MCR has garnered a cult and loyal following after over a decade of buying and selling your favorite band merch.
Starting his business around 15 years ago after sourcing a one-off tee at a festival, Kazeem has become one of the UK's – and the world's – most trusted vintage sellers. After becoming one of the first sellers to benefit from the launch of Depop, Kazeem's following grew exponentially, allowing him to turn a hustle that paid the bills, into a career that has taken him to car boots and pop-ups across the globe. "I came across a little pawn shop in Notting Hill where I could do a lot of trading and that helped me continue to survive and pay the bills," Kazeem told Hypebeast.
Now, with over 80,000 followers on Depop, and pop-up events booked weekly across the globe, business is flying for Ladi Kazeem. With this in mind, Hypebeast caught up with Kazeem to talk about his career so far, the lessons he's learned, where he sees the future of vintage selling, and much more.
Could you tell us who you are and what you do?
I'm Ladi Kazeem, I'm from the North East of England near Middlesbrough. I sell vintage T-shirts, merch, posters, and music-related items from the '90s. I go around and identify pieces that I'm into; mainly old, vintage band T-shirts. I go to different spaces and countries to source the items and I sell them all over the world. Mainly the UK and Japan… Japan is where it's massive. It's huge in the USA, too, but my market is mainly Japan.
How were you first introduced to the buying-and-selling industry?
I started buying and selling when I was in school and that just happened by chance. However, my buying-and-selling business really leveled up when I moved to London and I was buying and selling to survive. I came across a little pawn shop in Notting Hill where I could do a lot of trading and that helped me continue to survive and pay the bills.
Then I moved to Manchester and I was selling on eBay and Depop was the main platform that had just started, I used that to my advantage and began selling things that I was into. I propelled myself on there quite quickly and then I began to sell things like yo-yos and other quirky items.
"The vintage industry has never been bigger than it is now. It's got to the point where it's not that lucrative anymore."
Was there a main lightbulb moment that happened that told you that you needed to take this line of work seriously?
The main lightbulb moment for selling T-shirts – which is how I make the majority of my income – came while I was at a festival and I saw a tee in a shop that I bought. Everyone at the festival was then complimenting me for what I was wearing, I went home and put it on Depop and I instantly got a bid for £300, and that was crazy. I continued that cycle of sourcing tees and selling them for around two years and I built a connection with people that wanted to buy each tee that I was finding.
I saw that the person I was sourcing tees for was selling them for a really high value, so I decided I needed to do it myself. After two years of picking T-shirts, I began sourcing them in Manchester for around £10; Fugees, Tupac, some of the rarest T-shirts on the market that are worth around £1000 now. I learned on the job, selling T-shirts for too cheap, but gaining knowledge day-to-day and by hearing what people say.
The vast majority of your T-shirts hold a close affiliation with music. How is your relationship with music and what influences you the most?
Growing up, I was massively into Brit Pop and hip-hop, around the time 50 Cent was huge, that was my era. Also, I used to skate as a kid – I come from a surf town – so there were certain bands I used to listen to growing up. So, when it came to buying tees, it came to me being the guy who was sourcing styles for people. Now, I am buying things I was naturally into as a kid, but they just so happen to be worth a lot of money. For example, I'm a big fan of Oasis, and being around Manchester and the Northern Quarter, I could obviously tell that people were big fans of them. But as a general consensus, just being on the ground and listening, you pick up and learn what people will be interested in through the music that is taking over the city or town.
But, when it comes to buying, it generally comes down to picking the stuff that I'm into. Of course, there are a bunch of cult films that people are into; Larry Clark's Kids, Pulp Fiction, Trainspotting – generally, they're the tees that are more valuable. With the band and rap tees, they're the ones that are the most valuable – it's so hard to find them across the UK now. Especially the bootleg rap tees, the ones sold in carparks, they are so, so hard to find – it's like finding gold.
"I always make sure I share with my followers in the North, South, and Midlands — everyone deserves something. "
How wide is your core demographic for those who buy from your brand?
When it comes to hip-hop, you will get someone who is younger and who is into that era. Most people these days tend to find one artist and they will end up going down a rabbit hole and discovering a bunch of new people they will then idolize. They could even start with someone like Central Cee and then end up researching the history of rap in America.
Also, artists these days don't really sell merch like they used to. Merch used to be the biggest thing back in the '90s – artists didn't have streaming as they do now. Musicians would put their music out, tour and the merch would make the most money. But, the demographic of people who buy from me, could be anywhere from 15 to 60. The most beautiful thing, though, is when people buy from nostalgia. They buy because they were at a gig, they saw Grateful Dead that time in San Francisco, they were at the Hacienda, they saw Oasis at Maine Road, that's the kind of thing that is the most authentic.
How far into the future are you looking – could there be a Central Cee T-shirt available now, for example, that could be worth a lot of money in the future?
You could look at the future like that, and history would probably tell you that it's smart to do that. One thing I would say about being in this industry is that only certain artists hold value. The real core value of band tees is their rarity. There are certain bands like Oasis and Grateful Dead that had a lot of merch but they're universally known. However, T-shirts that are more valuable now are ones that have put out very little merch, which makes them rare. The obscurity of the music helps, too. Music that not many people are into makes the T-shirts grow in value.
But you could look at Central Cee and think that because he is popping right now, his merch could be worth a lot in the future. But, in all honesty, there are bands and artists out there that I look at and know that their tees won't hold much value. For example, I saw Ed Sheeran's merch and I thought it wouldn't be worth much, but, some artists release tees and you would never think in a million years that they would be valuable, but they are.
"The most beautiful thing, though, is when people buy from nostalgia."
How big and saturated is the current market and industry?
The vintage industry has never been bigger than it is now. It's got to the point where it's not that lucrative anymore. There's so much stuff coming into the UK and different countries regarding wholesale, it's become so saturated. We're at the point where there are so many T-shirts, it makes it so hard to find the good ones – it's diluted everything. You could find something on eBay back in the day and you could easily find something that was at a good value.
Now, you Google the same thing the marketplace is full of average tees that are being put up by anyone. The competition is massive in America and Japan. Every vintage shop is full of band tees – some original, some not – because people have seen that there's money in it, so they want to get into it. So, it's huge – every vintage dealer will sell tees. When I first started on Depop, nobody was selling anything in abundance in the UK. But now, because everyone is doing it, you can't find anything cheap because everyone is seeing listings for things priced incorrectly.
Over your career so far, is there one piece that you've owned that sticks out as a highlight?
I have been selling tees for around 10 years now, so over the years I've seem all kinds of T-shirts. But, one of the best ones that I have had is a Lauryn Hill bootleg rap T-shirt that was really rare and probably worth around £1000 now – and I used to sell them for £30 each [laughs]. I haven't seen one since, aside from on a wall in New York. Nothing really feels rare anymore though, nothing surprises me when I see it these days.
Throughout the UK, where is the most demand for the things you sell?
Naturally, the most custom comes in London, as it's the busiest place. But generally, I couldn't single out one specific place that that is the most demanding for what I sell. I receive love from all over the UK. However, I would say that some of the best things I've found from over the years have been in Scotland, but I always make sure I share them with my followers in the North, South, and Midlands — everyone deserves something. But as a whole, I would say that the industry is popping all over the UK.
Click here to view full gallery at Hypebeast
Please follow and like us:
About Post Author
This article was originally published on this site