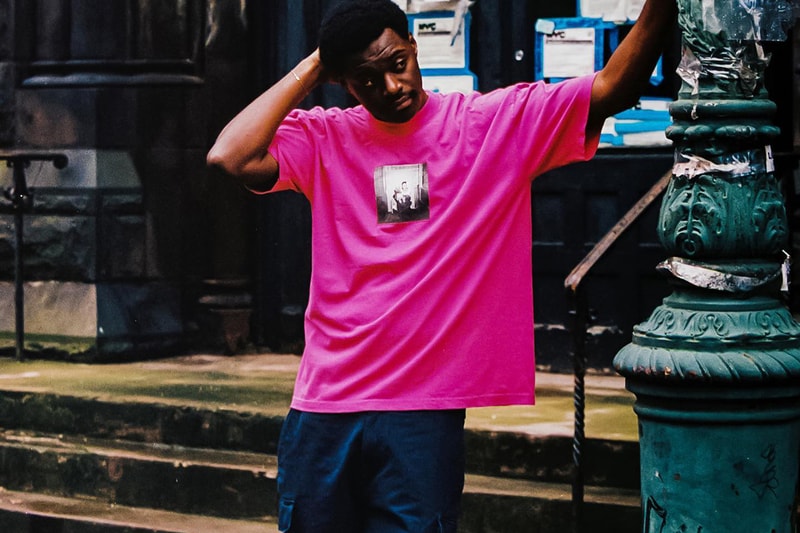 Harlem's National Jazz Museum and New York-based Book Works have teamed up for a photo tee capsule that highlights three of jazz's most influential figures: Billie Holiday, Thelonious Monk and Charlie "Yardbird" Parker. The photos on the tees are just as special as the artists themselves, as each was taken by William P. Gottlieb, a legendary jazz photographer who captured heartfelt portraits of the music's biggest stars and whose work has a permanent home in the US Library of Congress.
As can be seen in the photos above — shot by Takeshi Matsumi and featuring Jennings the Gent — each tee features one of Gottlieb's photos front and center on its chest and small co-branded National Jazz Museum/Book Work hits on its upper back. Though each photo is striking in its own regard the collection's highlight is the Billie Holiday shirt, which shows Lady Day with her beloved boxer Mister. An interesting side note surrounding the collection is that Gottlieb championed free, full, public use of his photography, so almost all of his images are in the public domain and brands/entites that use them don't risk a cease and desist.
Expect the National Jazz Museum x Book Works photo tee capsule to release at 9 AM ET on March 15 via the Book Works webstore. Limited quantities will also be available at the National Jazz Museum itself (58 West 129th Street, NY, NY 10027), which will throw a special event to celebrate the collaboration at 6PM on March 15 as well.
For more from the world of fashion, check out Hypebeast's interview with Olly Shinder, the U.K. designer who's making calculated risks look good.
Click here to view full gallery at Hypebeast
Please follow and like us:
About Post Author
This article was originally published on this site