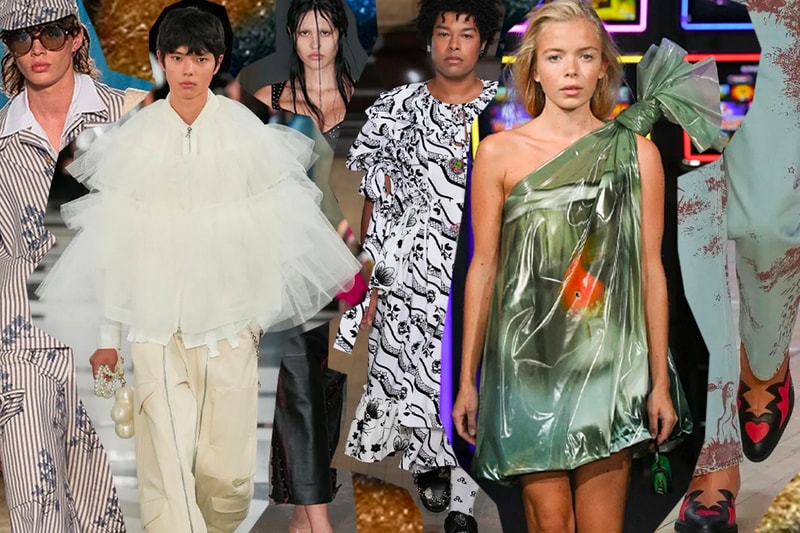 There's more to London Fashion Week than clothes. It's about the experiences brands create, the memories you take from shows that stick inside your brand for future inspiration, the moments you share with friends, and the artistic visions that go on to dictate trends once they filter into the more accessible realms of fashion. With this comes a number of breathtaking occasions – sometimes the spaces are enough to conjure emotions, other times it's the soundtrack that takes you back to a rave or leaves you nostalgic for your youth. Elsewhere, scents permeate the dramatic spaces to further evoke the designer's attitude for that collection, and the same goes for lighting, set design and everything in between. 
At LFW SS23, the designers seemed committed to this cause more than ever. There were more shows hosted outside of typical venues (like the Old Selfridges Hotel), with many opting for unconventional spaces like a casino arcade, abandoned hotel mansions, sports centers, third floor car park basements, community gardens, historic court houses, opulent landmarks and fashion's favorite space, the disused warehouse aesthetic. 
Now that the week has come to a close, Hypebeast looks back to recall and highlight some of its favorite moments. Note, if you're looking for show coverage or trends, this is not the place. Instead, we want to spotlight the events that made us feel a certain kind of way. 
JW Anderson's Arcade Takeover
JW Anderson SS23.
For one of the most intimate runways of the season, Jonathan Anderson put on a casino crusade by hosting his show inside the Las Vegas Arcade in London's Soho. The bright neon lights that decorate the streets outside were emulated inside, with slot machines and big-winning games shining their intoxicating glimmer onto the makeshift catwalk. As a result, energy was pumping in the room before we'd even seen the clothes, in turn gearing us up for one of the standout shows of the season: it wasn't just computers decking the halls, as clothes were adorned with Getty stock images, noughties keyboard keys and selfie-inspiring mirror ball orb dresses.
Simone Rocha's Menswear Debut
Simone Rocha SS23.

Simone Rocha SS23.
Concluding with the largest round of applause and the loudest cheers of the week, Simone Rocha's foray into menswear was nothing short of a spectacle. Not only did she deliver an introspective array of designs across the board, but she also managed to usher in her aesthetic into a signature collection of men's designs; clothes that introduced a softer side to the male wardrobe while still sticking to traditional identities. Alongside the frills, folds and ruffles were aviation-inspired looks bolstered by ruching, bibs and jackets that billowed and buckled across the body, and a collection of shoes that have gone largely unnoticed thanks to the collection's dominance. However, these shoes – ranging from black strappy sandals sporting pearl-constructed flowers to brogues sitting atop high-shine rubber soles and sneakers that crossed into the world of tartan check ballet flats – were equal stars of the show. 
Dilara Fındıkoğlu's Stiletto Soundtrack
Dilara Fındıkoğlu SS23.
Runways are usually pumping with big house tracks and techno undertones, but this wasn't the case for Dilara Fındıkoğlu. Instead, silence was met by a soundtrack of heels hitting the dilapidated wooden floors of a £23M 1860's former hotel, served alongside the jingle of bells on said shoes. Divided into four rooms, audible gasps from the front row could be heard inside the eerily quiet building, creating anticipation for what was to come around the corner. Each look shocked and incited awe in their own ways, but the tension of a model marginally missing a hole in the floor, or dresses catching on loose floorboards and ripping, made for one of the most skin-crawling, emotional, uncomfortable, and yet somehow addictively watchable shows of the week.  
Chopova Lowena's Punk Chaos
Chopova Lowena SS23.
On the contrary, Chopova Lowena's debut physical runway show served punk chaos energy. It was the right tactic for the emerging brand, as the crowd could not stop smiling throughout this cathartic display of teenage angst and stroppy Y2K no-nonsense collection. Hypebeast has documented the clothes numerous times, but as Chopova Lowena's runway showed, the atmosphere isn't limited to just looks. Instead, a show can be used as a way to conjure thoughts and feelings, to create a tone and comment on society, particularly counting the last few years which left many of us wanting to scream out with a burst of creativity. 
S.S. Daley's Storytime
S.S. Daley SS23.
Steven Stokey-Daley has become renowned for his play-like fashion shows, often enlisting talent from the National Youth Theatre to reenact moments in our history, and for SS23, Daley looked towards the love letters between Vita Sackville West and Violet Trefusis. Taking place inside the St. Pancras Renaissance Hotel, the Liverpudlian designer created a garden based on Sackville West's own which saw a diverse cast of actors-turned-models don the designer's latest whimsical collection. Shirts floated alongside silky trousers and wore bouquets on them, floral displays decorated hats, and knitwear sported classic depictions of the British countryside like plates that would grace your grandparents' pantry. Working alongside the clothes was the story itself, a love story that was just as beautiful as the collection. 
Molly Goddard's Cowboy Boots
Molly Goddard SS23.
Molly Goddard gave us everything we expected – tulle, taffeta, volume and sophistication, all injected with a sense of quirk and fun thanks to her poppy color palette. However, paired with almost every look was the designer's footwear, this season offering cowboy boots and ballet pumps that were also informed by the Wild West. In true Goddard style, the boots were both traditional and revolutionary, as a leather construction sported western motifs alongside love heart patches in bold tones of blue, red, and yellow contrasting with tan and black bases. Like Rocha's sneakers, these boots were some of the best in-house footwear offerings of the season.
Halpern's Barbie Collaboration
Halpern SS23.
If you're not familiar with Halpern, we'll forgive you. Founded by Michael Halpern, the brand celebrates hyper-femininity and does so with sparkle and retro glamor. This was the case for Halpern SS23, which took over the 16th century Royal Exchange building in Bank, London, with a collection that brought boogie wonderland pant suits covered in sequins onto the runway alongside a collaboration with Barbie. Suddenly, the sensual leopard print looks were swapped out for bouncy hair, sequin bodysuits, barely-there veils and pink branded bags, pink latex gloves, and a sense of disco fever.
Click here to view full gallery at HYPEBEAST
Please follow and like us:
About Post Author
This article was originally published on this site