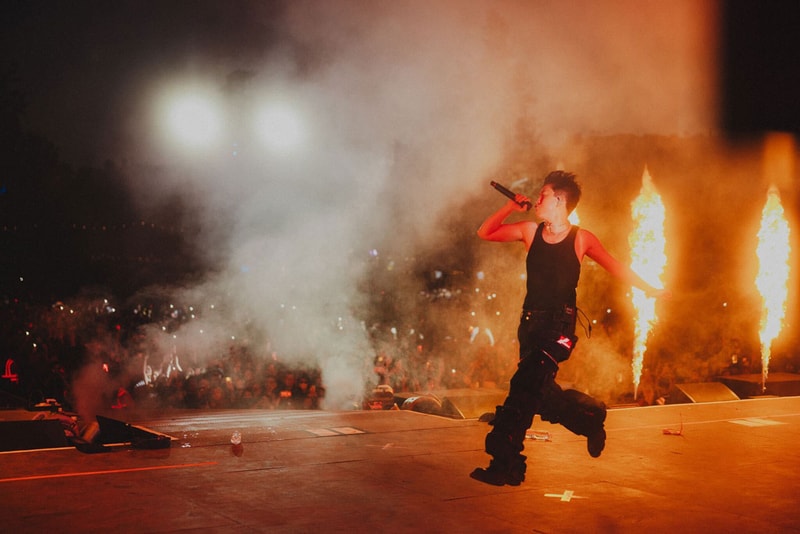 Eight years ago, Sean Miyashiro was sitting in his car in a parking garage in the Bronx, ideating his next venture. In 2015, Miyashiro — a San Jose native of Japanese and Korean descent who was then employed by Vice — had never worked for a record label, let alone run one. But then again, 88rising wasn't born out of practicality. Miyashiro simply wanted to posit the Asian artists he loved in front of the illimitable audience that only a place like the Internet can offer.
"I didn't know what 88rising was gonna be, but I thought it was gonna be better than anything else because there was nothing like it at the time," he says. "Still, I had never put out a record, helped make a song, signed an artist or anything like that. I was just trying to build a home on the internet to celebrate Asian creatives that I liked." Safe to say, he succeeded in his mission.
In the years following 88rising's founding, the company "snowballed into a record label" as Miyashiro and his team ideated new ways to develop the careers of the rapidly-rising creatives they had been working with. One of the early projects coming out of the label was Joji's 2018 first studio album, Ballads 1, which entailed a stark rebrand from his YouTube-era alias as "Filthy Frank" to a crooning artist making lo-fi tracks about loss and heartbreak. The same year was also marked by the debut LP of one more star of the label, Indonesian rapper Rich Brian, who had dropped a handful of one-off singles in the years prior, building up to the hard-hitting "Amen." Along with features from Joji and another of 88rising's own, R&B artist NIKI, 88rising tapped Offset to appear alongside Rich Brian on the track "Attention." Following a small self-titled tour in the fall of 2018, 88rising had enough traction with their roster to warrant an even larger endeavor: the Head in the Clouds festival.
The inaugural Head in the Clouds festival was presented in Los Angeles' Chinatown at the Los Angeles State Historic Park. Presenting artists from across the Asian diaspora, the festival platformed the label's growing roster, and served as the U.S. debut for others, such as the momentous first-ever stateside concert of South Korean rapper Kohh, performed before a crowd of over 10,000 attendees.
After returning to the State Historic Park in 2019 for its sophomore installment, Head in the Clouds relocated to Pasadena to accommodate more fans. Since then, the festival has come full circle, touching down in the homelands of some of its most beloved artists with events in Jakarta and Manila.
While 88rising is often referred to as a label today, Miyashiro describes his initial vision, and how he continues to define the company today, as a multi-faceted media entity for the Asian arts community. For instance, the company has dipped into film as of late. 88rising executive produced the soundtrack to the 2021 Marvel flick Shang-Chi and the Legend of the Ten Rings starring Simu Liu. More recently, Rich Brian made his acting debut in the Justin Chon-directed Jamojaya, a drama that premiered at Sundance in January and chronicles the relationship between a rising Indonesian talent and his rocky relationship with his father-manager. "88rising was a part of [Jamojaya] from the inception, down to the nitty-gritty of securing financing," Miyashiro notes.
However its next endeavor takes form – film, TV, music, live events or something else entirely – Miyashiro emphasizes that the focus of 88rising is rendering narratives that depict and are created from within Asian communities.
"The whole vision right now, even after all the success of our music, still goes back to the original intent. We really just want to develop a lot of different, real dope untold stories."
"The whole vision right now, even after all the success of our music, still goes back to the original intent," he says. "We really just want to develop a lot of different, real dope untold stories."
Building on its ever-expanding influence and Miyashiro's penchant for keeping things fresh, 88rising will be bringing Head in the Clouds to New York City for the first time this May. The move is particularly exciting, Miyashiro says, given the company's origin story, as well as the loyal following its artists have cultivated in the city."I think a lot of the first wave of notoriety and success for 88rising happened in New York City," he reflects.
Head in the Clouds New York will see the return of past headliners such as Rich Brian and NIKI alongside new acts like Beabadoobee and MILI, with the festival taking place at the 13,000-capacity Forest Hills Stadium in Queens on May 20 and 21. Miyashiro recalls trekking to Queens from the Bronx to pick up some of his favorite Asian foods back when he lived in the city – but really, the decision boiled down to him wanting an outdoor, grassy venue, of which there are (unsurprisingly) few in New York. Nonetheless, the team is already eyeing even bigger spots in New York for festivals in the coming years. And while Miyashiro is remaining tight-lipped about the future projects coming out of 88rising, he promises that they're working on delivering some exciting new projects to fans in 2023 and beyond. If their history is any indication, rest assured, they'll continue to shake up the game.
Click here to view full gallery at Hypebeast
Please follow and like us:
About Post Author
This article was originally published on this site