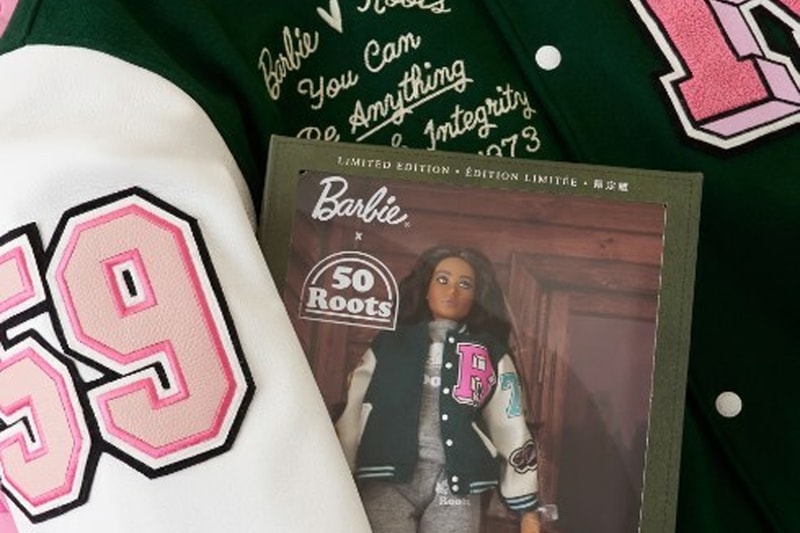 It looks like the Barbie craze is not over just yet. To celebrate their 50th anniversary, Canadian lifestyle brand Roots is releasing an exclusive apparel and doll collaboration with the fashion icon. The Toronto-based brand is coming together to inspire Barbie and Roots aficionados to continue to express themselves by prioritizing style and comfort.
The collaboration features a limited edition Barbie doll that is dressed in head to toe Roots styles including a Roots Salt and Pepper crew sweatshirt and matching sweatpants. The Barbie is also seen wearing a Varsity Awards jacket with exclusive Barbie decals, along with a pair of TUFF brown boots and a Banff weekender bag. Alongside the limited edition doll, Roots is also launching a 30-piece apparel collection that features accessories for men and women, kids and toddlers. The apparel collection will range from sweatpants and sweatshirts to Varsity jackets, bags and hats, staying true to Roots' signature styles.
Roots has long been a staple apparel household name amongst Canadians. In global annual sales, the company generates between $350 million CAD to $400 million CAD per year. Meghan Roach, president and chief executive officer of Roots Corp. said, "The inspiration for the Barbie x Roots doll came from the experiences Karuna (Scheinfeld) and I share as mothers of children from multicultural backgrounds. We wanted to embrace the rich diversity of Canadians and our global audience, including our young daughters. Teaming up with Barbie in our 50th anniversary year, we were excited to celebrate how Barbie has empowered young women over the last six decades to follow their dreams, something we are both passionate about as female executives." Steve Totzke, president and chief commercial officer of Mattel responded in a statement, "The Barbie x Roots Collection comes together at a meaningful moment in the brands' respective histories. As a 25-year Mattel veteran and proud Canadian, I am especially excited for this collaboration, featuring products that reflect the legacy of an iconic Canadian company, in what continues to be an incredibly celebratory year for Barbie."
The Barbie doll is set to sell across select Roots stores in Canada, the U.S. and Taiwan alongside the collection. For more information check out Roots.
In other fashion news, the Los Angeles Rams and Born X Raised join forces for another NFL collaboration.
Click here to view full gallery at Hypebeast
Please follow and like us:
About Post Author
This article was originally published on this site