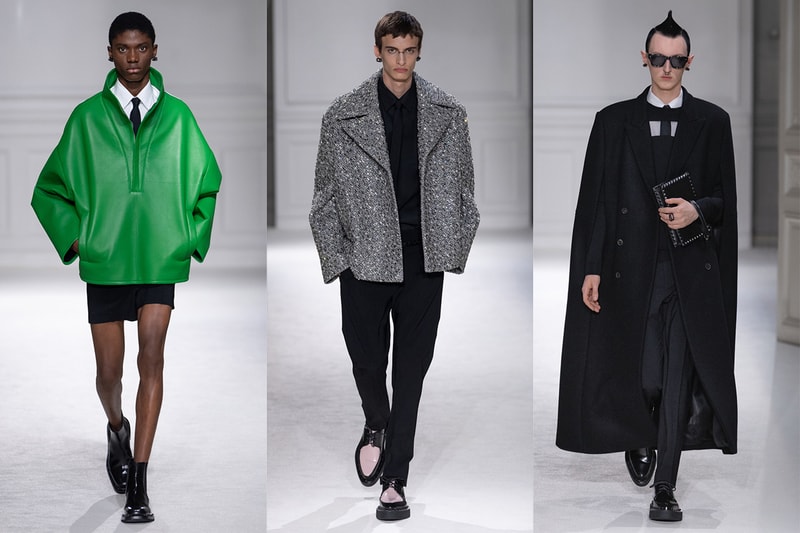 Pierpaolo Piccioli is re-writing the codification of Valentino. Spring/Summer 2023's "Unboxing Valentino" served minimalism and maximalism in harmony, creating a collection that dressed the House in purification and essentials, and the theme was continued — and elevated — for Fall/Winter 2023's "Black Tie" runway show.
Black tie is a dress code, a restrictive factor of attire that must be adhered to. It's a faux pas to digress from the expected norms when required to follow the code, and it is something that is habitually ingrained in the sartorial world. With this in mind, black tie is seldom subverted, but that is exactly what Valentino has done.
Breaking free of conventions, Valentino updates the antiquated expectations of black tie for FW23. The collection was, at times, literal — a black tie became the physical embodiment of the term and collection, frequenting many a look across men's and womenswear. It evolved by being tied, untied, loose, or formed as part of a shirt, dress, or jacket, worn alongside androgynous skirts and Valentino Rockstud motifs that added a hard, rock-and-roll edge to the outfits.
Conventions were deconstructed and re-imagined consistently, with a pair of Rockstud-encrusted shorts working alongside formal touches of shirts and ties and the power of an elongated black leather coat. Such looks were indebted to an off-duty rock star, as was Look 67 which gave us a shimmering silver biker jacket-blazer hybrid number paired with cigarette trousers and patent pink and black pointed derby shoes.
However, Valentino also presented clothes that went further against the grain. Loose boiler suits, vests crafted from interconnecting bows, double-breasted car coats covered in a black-and-white chess board design, and ethereal dresses covered in variating sequins or another using sheer black tulle, feather cuffs and crystal embellishments time and time again used a black tie to add formality, and the look itself to decode the norms.
For Piccioli, "Black Tie" was yet another example of how Valentino adapts and reshapes its identity. A success, by all means. Take a look at the collection in the gallery above, and find more Paris Fashion Week FW23 content across Hypebeast.
Elsewhere, check out Alexander McQueen's powerfully romantic and dramatically dark FW23 collection.
Click here to view full gallery at Hypebeast
Please follow and like us:
About Post Author
This article was originally published on this site