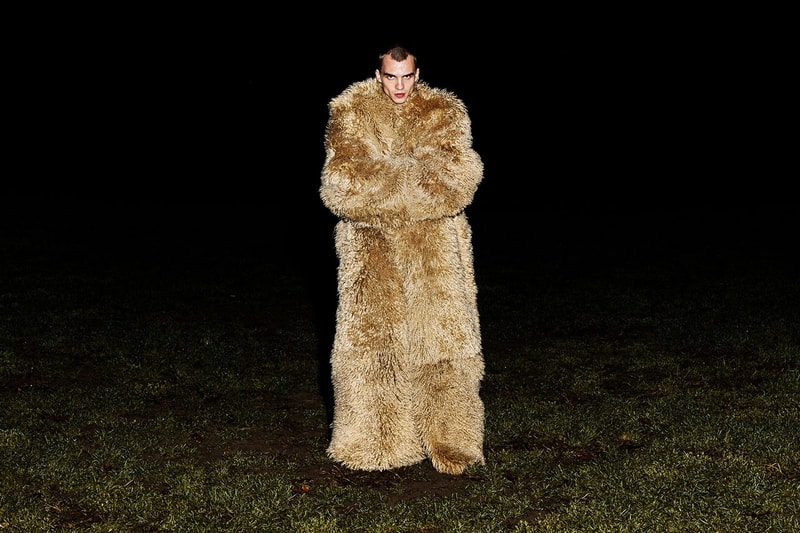 Like many fashion designers and creatives, Alex O'Kane's love for fashion revealed itself at a very young age. From being surrounded by clothes due to his mother's work with designer Fernando Sanchez to devouring his aunt's fashion magazines, it was a constant. But instead of immediately going to study fashion, O'Kane focused on art history and went into the family's electrical business post-college. All the while, his passion for fashion, then at odds with his career, continued to grow.
After shaking himself loose from the family business, Alex stripped the apostrophe from his last name and established his eponymous label Okane in 2021. With just two collections under his belt thus far and many more in the sketchbook, Alex's vision of menswear picks up where the 2016-2018 craze of subverted menswear left off. His focus rests on quality-made clothes. No gimmicks. No overproduction. Just an artful blend of fine fabrics and reenvisioned historical elements. Although the clothes are unequivocally menswear archetypes, O'Kane's practice aims to push the needle just a bit further – forever offering something wearable, yet subtly enticing.
What makes the New York-based brand all the more genuine is that all of its operations — from design to cutting and sewing —take place in Manhattan's renowned garment district. In today's climate where the majority of operations are outsourced, O'Kane wanted a core element of his brand to be the support of NYC.
HYPEBEAST sat down with Alex O'Kane to discuss the story behind crafting his eponymous label, what fuels his designs and how his work envisions the evolving status of menswear.

HYPEBEAST: When you first established your brand, what was the idea of what the Okane archetype would be?
Alex O'Kane: I find a lot of times, young brands are like, "what's your thing?" Then they fall into that "thing" and it's made season after season, which is great for two or three years, but then they've got nowhere to go with it. So I'm less about one specific thing. I'm an eclectic person, and as I get older what I like is going to continue to change. Each season I want my clothes to be slightly different, but have some of the underlying things be connected, whether that be womenswear detailing in construction, or the fit and shape being a little less slim and streamlined and doing more creative things with pattern cutting, which is not as common in menswear.
So what are those tones of the brand?
I like a combination of something romantic and kind of dark and f*cked up. My go-to source of inspiration is TV and movies. I love either a period piece, horror movie or a thriller.
Along that line, how did you begin crafting your FW22/23 collection?
The idea was inspired by a dream that turns into a nightmare. But I also didn't want anything to be too much of a costume. I still want you to be able to pull something out, and at the end of the day it's just a really nice cashmere jacket. For this season, the big things I was looking at were textures and back detailing. The two larger themes were historical influences and turn-of-the-century surgical medical clothing and a sense of femininity or simplicity to clothing.
I also liked the idea of having backs open. Funny enough, the great Rei Kawakubo interprets historical Japanese fashion and modern fashion by mixing east and west. In Japanese fashion, the back is more of a focal point, especially the nape of the neck. I wanted to add a similar delicateness to menswear.
Okane
Okane
Okane
Okane
Okane
Okane
What movies or TV shows inspired some of the styles for the season?
One was The Knick by Steven Soderbergh and that's where some of the medical stuff came from. There's a photosphere in the 60s of these twin Romanian brothers also. The three main things would be historic clothing, religious clothing or the concept of uniforms in different settings.
How do some of the pieces this season convey those themes?
I had to bring all this texture together, which made me think of medieval and modern. I wanted latex, fur, cashmere, ultrasuede and leather. Since tonally, it's all very simple, the texture was where I wanted it to play, and then starting to slowly introduce moments with little details, but not making it too massive. "I wanted to add a similar delicateness to menswear."
Okane
Okane
Okane
Okane
Okane
Okane
Fabric clearly plays a huge role in your pieces. Why is that?
When I was a kid, my mom used to make fun of me because if she took me shopping I would just do this [grazes hand across rack of clothes] and what I liked would be the softest and I'd get that. She'd say, "You don't know what it looks like." I'd respond, "But I like it." So the feel is really important to me.
You started simple with your first collection and the second one sees your vision come to life a bit more. How do you envision the growth of your brand and its collections?
I've written out every season's collection for the next decade – essentially the overarching ideas of how I want things to flow. It's not going to be the same collection in different colors and fabrics every season, right? How can you tap on all these different things that you're interested in, in a way that makes sense and one thing leads to the next? It was really a way of creating a roadmap to think of things.

Do you think your clothes will always retain this refined minimalist aesthetic?
I don't think it's ever going to be super maximalist. Next season there are two focal prints I want to work with, but other than that the colors are tonal. I like focusing the tone somewhere in this, and that makes it easier for me to do more things with shape.
Click here to view full gallery at Hypebeast
Please follow and like us:
About Post Author
This article was originally published on this site