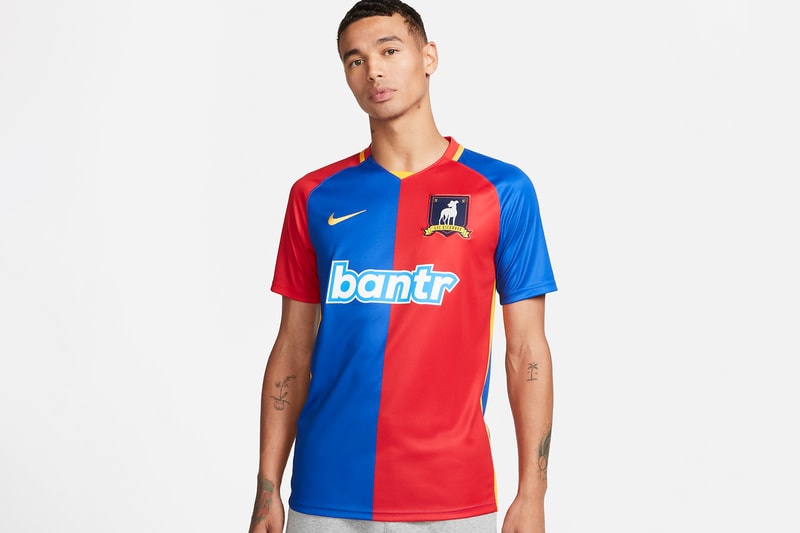 The third and final season of Ted Lasso is set to kick of on March 15, and just ahead of the 11-time Emmy Award-winning show's big day, Nike is celebrating the series' fictional AFC Richmond franchise with an extensive collection of apparel. Last March, Nike announced that they'd begin making AFC Richmond's kits and warm-ups in the show's third season — replacing fictional manufacturer Verani Sports — and those same kits, warm-ups and ancillary items are available for purchase.
AFC Richmond's hound crest and callouts to Bantr (the fictional dating app that sponsors the team after Dubai Air drops their sponsorship in the third episode of the show's second season) are replendant across the collection. The key piece is a two-tone AFC Richmond stadium jersey, but there are also an array of T-shirt and fleece options in navy, grey, bright blue or even orange as well as a duo of special scarves. Currently, there are no player-specific items available, but it's not out of the question that Nike could release either those or, potentially, a special footwear collab: Jason Sudeikis' Lasso himself can be spotted in a variety of Air Max 1s, Air Max 90s and Air Jordan 1s across the show's second season, as can several of the team's players.
Nike's AFC Richmond collection is available now via the Nike webstore. Prices range from $35 USD for a tee to $105 USD for a jersey.
Elsewhere in the world of sports and fashion, Pigalle's Stéphane Ashpool was named the artistic director of France's Olypmpic teams for the 2024 games — and Hypebeast secured an exclusive interview with him about the announcement.
Click here to view full gallery at Hypebeast
Please follow and like us:
About Post Author
This article was originally published on this site