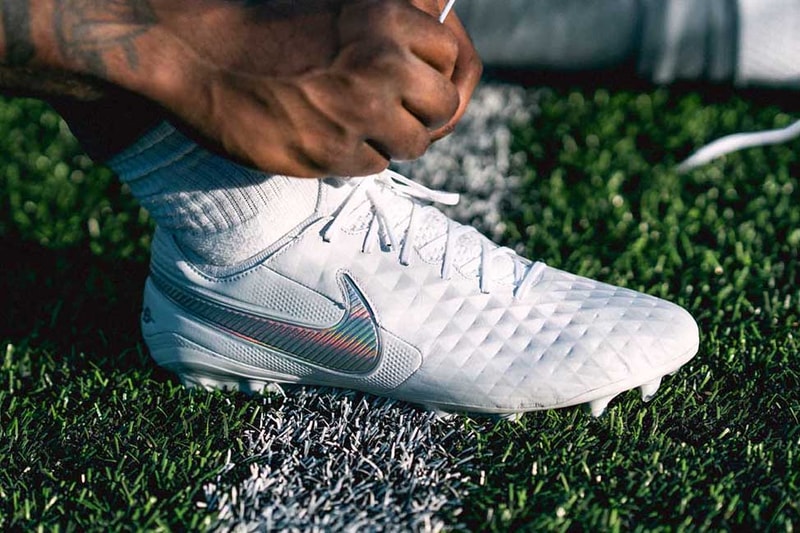 Just two weeks after PUMA announced that it will stop producing football boots with kangaroo leather this year, Nike now makes a similar announcement, revealing that it will be shifting away from "K-leather" for its Tiempo soccer boot line. According to a statement shared with Footwear News, Nike has divested its only kangaroo leather supplier in 2021 and will cease to make any product with kangaroo leather beginning this year, replacing the leathers with a proprietary synthetic upper.
Earlier this year, a bill passed in Oregon which will soon prohibit the sale of any kangaroo parts or kangaroo-based products. With Nike's Beaverton headquarters based in the state, the new mandate may have played a significant role in the decision.
Kangaroo leather is a common material for soccer cleats, used by top-of-the-line models such as the Nike Tiempo 9 Elite, adidas Predator Pulse, and Puma KING lines. Earlier this month, PUMA revealed the new direction for its flagship KING soccer boot featuring a new "K-BETTER" upper made from non-animal based upper materials with at least 20% recycled fabrics.
The kangaroo population currently far exceeds the human population in Australia with approximately 43 million roos to 26 million humans. While seen as an unmistakable symbol for the country, the marsupials are also considered a pest species and the Australian goverment has sanctioned commercial harvests to limit the population growth since 1999.  As the largest land-based commercial slaughter of wildlife in the world, the culls are a controversial topic in the country.
Lighter, stronger, and more flexible than cow and goat hide, kangaroo leather is primarily used for sports sheos and gloves. With sports giants such as Nike and Puma now opting for alternative materials, the implications are immense for the K-leather industry as other companies follow suit.
In other news, Balansa and Puma launch debut running capsule.
Click here to view full gallery at Hypebeast
Please follow and like us:
About Post Author
This article was originally published on this site