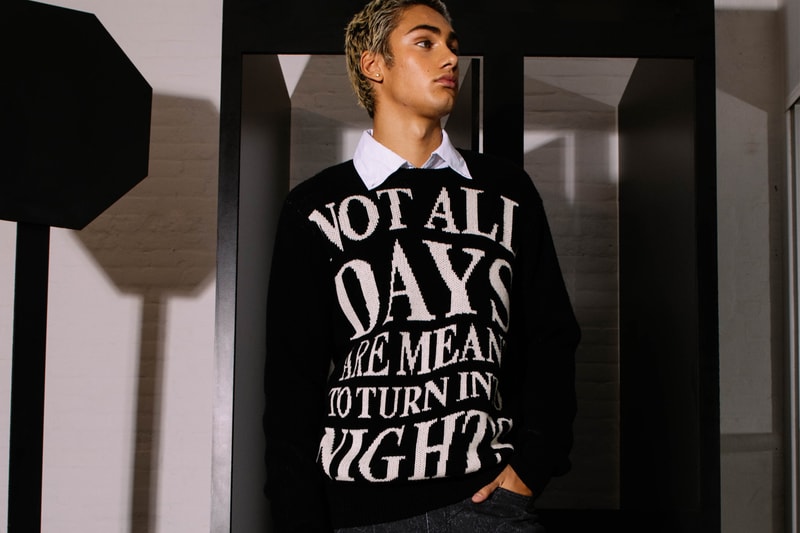 Nicholas Raefski started his eponymous brand from his Fordham University dorm room in 2020. Named as one of Hypebeast's Best Emerging Menswear Brands of 2022, the designer – sans formal fashion education – looked to the timeless literary trope of  "The Hero's Journey" to make his independent New York Fashion Week debut with his Spring/Summer 2024 collection, "Sidewalk Tears": a striking monochrome collection that speaks to the grueling austerity and tribulations all heroes face.
The collection lands as the second chapter in Raefski's larger narrative, which uses fashion to tell a cohesive, universal story about the highs and lows of a protagonist's journey — a protagonist that anyone can relate to.
Raefski's collection is a testament to his own hero's journey, even. "Amid the bleakest hours, I frequently find myself wandering the streets of New York, crying, looking aimless for the answers to my problem," he explains in a statement. "Amid these meandering reveries, I unearth the very resolutions to my problems. A vivid reminder arises that the world persists, unyielding in its rotation, while my trials—though momentous— are not world-ending. These tears upon the sidewalk stand as an indelible reminder—a testament that, whatever I am going through, I will survive, and my journey forward will continue."
The young designer looked to pivotal moments where hope seems extinct and failure appears eminent to inspire the collection —"those grueling junctures, those twilight interludes, instances when optimism recedes into the abyss, and achievement appears beyond grasp."
With that, Raefski curated a striking array of pieces, most of which are predominantly black with white and gray detailing. Some remain minimalistic in design, while others see portraiture and oversized lettering at the forefront.
See Nicholas Raefski's Spring/Summer 2024 collection in the gallery above, and stay tuned to Hypebeast for more New York Fashion Week coverage.
Click here to view full gallery at Hypebeast
Please follow and like us:
About Post Author
This article was originally published on this site