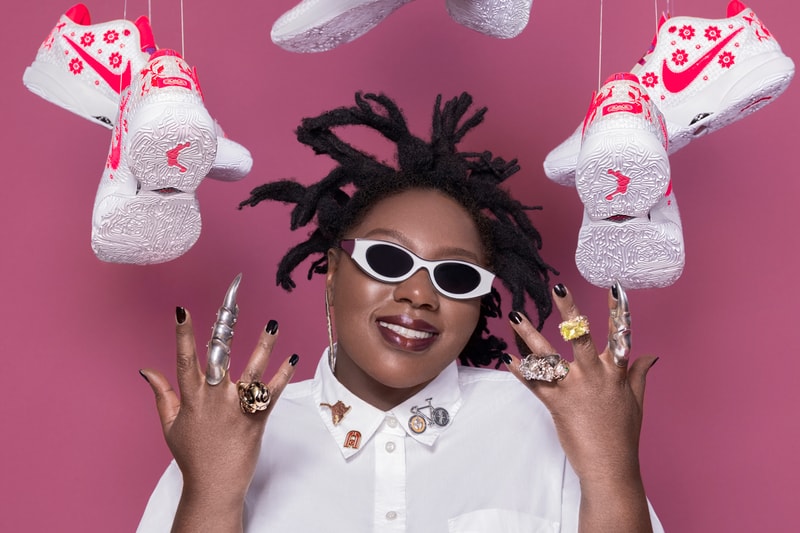 Mimi Plange celebrates individuality and culture wherever she goes. The award-winning Ghanaian-American designer co-launched her eponymous label in 2010, and, since then, has had her work displayed in museums around the world while her pieces have been cherished by everyone from Rihanna to Michelle Obama.
Plange defines her work as "Unfashion," as she has found that the world of fashion has fallen into meaningless, surface-level beauty. Setting aside the rules, each of her designs champions identity — often spotlighting African traditions in a classic American context.
After first teaming up with Nike Basketball in 2021, she just released her fifth design within the LeBron series, a fresh take on the the LeBron 20 that follows her four iterations of the LeBron 18 Low. Plange crafted a "Ceremony" colorway of LeBron's 20th signature sneaker that connects his legacy in basketball. The design considers LeBron's journey as the most-anticipated draft prospect of all-time to a wise veteran and notes its similarities to the youth-to-elder transformation celebrated by the Maasai people of Africa.
During her installment of Sole Mates, Mimi Plange breaks down the shoe's intricate storytelling and detailing, how her partnership with Nike came together and the power of wearing sneakers.
How did your sneaker journey begin?
I've always been the type of person to wear a pair into the ground, so I never really labeled myself as a sneakerhead. Through the lens of fashion, I've established a great love for shoes organically, considering how important they are in the equation of an outfit.
Is there a pair from your early days of collecting shoes that you remember fondly?
There's no particular pair that stands out, but I remember making the transition from designs by houses such as Alexander McQueen to the collaborative work of sacai and falling in love with their approach. From there, the idea of designing your own shoe and working with another brand in this way stuck with me as something I wanted to do.
"Bridging the gap between a designer brand that draws from African culture and basketball shoes was a unique challenge and one I found very fun to take on."
You're five collaborations deep with Nike Basketball and LeBron James. How did this relationship form?
It sort of fell into my lap. Nike approached us to work together and I was like, "Of course!" Who could say no? It was incredibly exciting but also stressful — there's a very passionate crowd behind sneakers and it's not an easy one to please. Bridging the gap between a designer brand that draws from African culture and basketball shoes was a unique challenge and one I found very fun to take on.
Was it difficult pivoting from your fashion-forward designs to performance wear?
I realized that the more I stay true to myself when putting my signature on something that already exists, the easier it becomes to infuse the stories I want to share into that product. When I hone in on the story element, the design comes to life naturally rather than forcing too much from the start. It's the same approach I take with designing garments, which has relaxed me in this otherwise intense process.
This time around, you worked on the LeBron 20, drawing inspiration from the Maasai. Why did you choose them as a point of reference?
With it being the 20th shoe in the line and LeBron's 20th year in the league, I focused on the idea of graduating and evolving. From there, I recognized a parallel to the Maasai — one of many cultures in Africa that commemorate the transformation of its youth into elders. Considering LeBron, two decades of both playing in the league and releasing shoes is monumental, so this felt like a great reflection of that while tying it into African culture.
After connecting the dots story-wise, the design of the shoe came naturally thanks to all of the great contributions to fashion that the Maasai have made: everything from the plaids that we love to patterns we use. Unfortunately, their contributions to the fashion lexicon have largely remained overlooked by the masses, but thankfully we were able to shine a light on them with the shoe's intricate detailing.
Looking closer at the floral motif, on one hand, it's symbolic of giving LeBron his flowers. On the other hand, it's a beautiful pattern that can be appreciated for its surface level presence — but as you peel back the layers in its story, you can recognize the traditional patterning and overarching themes we wove into its design. The end result is something that serves as an homage while maintaining its own unique identity as a collaborative work.
What's your favorite element of the sneaker?
The LeBron 20 is a much sleeker shoe than its predecessors, allowing it to transition easily from the court to the streets. This gave us greater freedom to explore material composition, patterning and textures. The end result of our collaboration nails the layering of woven fabrics and satin stitch embroidery, connecting it to the Maasai designs I love.
How do you hope people feel when wearing the shoe?
I want each owner to feel like they have their own little piece of art with the shoe. I've always found brightly-colored pieces to be fun in the way they draw eyes to them. With our design, there should be a special feeling to wearing them that others comment on. It's designed for the type of person who knows who they are and embraces their own sense of style. At the end of the day, I sought to create something truly unique that you can't replicate with any other shoe.
Were you able to involve the Maasai in any part of the process?
Yes! I haven't shared this yet but we connected with a group of young influencers called the Maasaiboys who live in a remote village in Tanzania and share looks into Maasai culture with the world. They put together a fun photoshoot showcasing what the shoe means to them.
 

View this post on Instagram

 
What's it like having this platform that Nike has provided you to share these stories?
It's still unbelievable to me — this is a dream for people across the world, and being able to present these stories from underrepresented communities and cultures on this scale is amazing. At the same time, I'm able to infuse the "Unfashion" attitude that drives my work — celebrating the outsiders of the fashion world. Each of the shoes we've created carries its own identity, something important to me with all of my designs. At the end of the day, that's what we stand for — embracing our differences and stepping outside of the box, so doing this with Nike is a huge honor.
Outside of the LeBron line, are there any other sneakers that you'd love to work on with Nike?
There are so many. From Air Maxes to Air Force 1s, you really can't go wrong with the brand's catalog and it'd be wonderful to craft stories across these silhouettes. Personally, I wear a lot of Dunks so that'd be a natural fit that I would absolutely love to do.
Your designs have graced everyone from Michelle Obama to Rihanna. Is there anyone that you'd love to see wear a piece from you that hasn't yet?
No matter who it may be, it makes me so happy to see somebody wearing something of ours. For celebrities to appreciate it is always fantastic, but the most important thing to us is the people who bring their passion to the brand. They're the ones who start making it into a tribe. I'm constantly trying to offer something remarkable to celebrate who they are.
Lastly, what do sneakers mean to you?
Sneakers offer a sense of individuality. They provide both comfort in oneself and the strength to do anything you put your mind to. From a fashion point of view, each piece informs your movement and with footwear, a heel has a separate walk from a sneaker. With the latter, you're grounded and feel very secure.
When I put on sneakers, they bring a sense of freedom with the way they accent my looks. Whether it be pairing them with an everyday outfit or dressing them up with a gown, I know that my sneakers will provide the comfort I need to celebrate myself confidently.
---
The Mimi Plange x Nike LeBron 20 "Ceremony" is available now via the designer's website at a price of $250 USD.
Click here to view full gallery at Hypebeast
Please follow and like us:
About Post Author
This article was originally published on this site