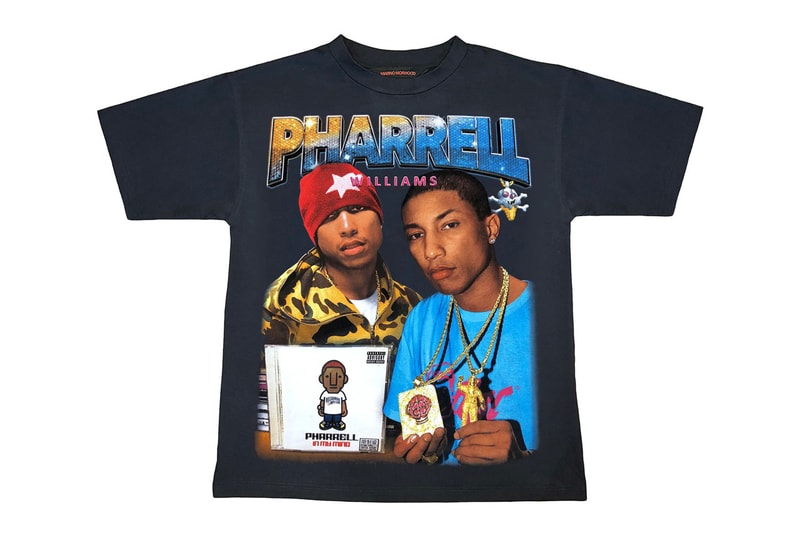 London-based designer Marino Morwood has presented a new collection of graphic tees, taking some of your favorite hip-hop stars, such as Eminem and Pharrell Williams for inspiration.
The world of vintage tees has never been bigger than it is now. As per an interview Hypebeast recently conducted with one of the UK's most trusted sellers, Vault MCR, it's harder than ever before to source authentic styles. "As vintage T-shirt selling continues to grow globally, it feels like everyone is doing it, which is fine, but it definitely makes it a lot harder to find things at an affordable price," he said.
With this in mind, Marino Morwood is looking to make life easier for those searching for vintage-inspired pieces at an affordable price. His new collection, which dropped yesterday, features a selection of graphic-heavy designs, all of which take inspiration from some of the most important and iconic rappers of hip-hop culture.
For example, the collection starts with an Eminem-inspired tee that looks back at one of his most classic singles: "The Real Slim Shady." The design features a collection of overlapped imagery on the front and back, all applied to a heavyweight silhouette crafted from a heavyweight enzyme and stone-washed fabric.
Additionally, other styles in the collection — that are available in two colorways of black and white — feature prints inspired by Pharrell and Nas, with the latter paying homage to Nas' classic record "The World Is Yours."
You can take a closer look at the new collection from Marino Morwood above and it is available to shop via the brand's official website now.
In other fashion news, take a look at the new collection from A Better Mistake.
Click here to view full gallery at Hypebeast
Please follow and like us:
About Post Author
This article was originally published on this site