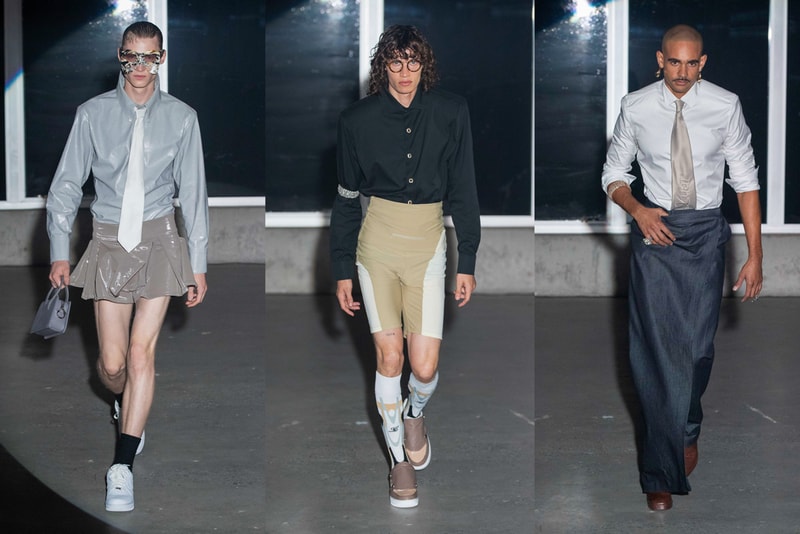 For LUAR's Spring/Summer 2024 collection, creative director Raul Lopez crafted clothing built on duality. The designer, who was named the Best American Accessory Designer at the CFDA Awards in 2022, had big expectations to meet, after last season's "street-but-elegant" range that articulated the brand's maturation over the last 10 years. This line continued that evolution, drawing from past brand signatures to create something that was fresh, avant-garde and identifiably LUAR.
The first look's light blazer featured sharp, angular cuts, and the trench coat that followed behind firmly locked a shirt and tie in place over flowing trousers. Next, sunglasses were attached to their wearer's shirts, and buttoned skirts featured massive slits to reveal statement tights. A bounty of formalwear was finished with a contemporary feel: shiny dress pants were high-waisted on men; logo-laden ties were tucked into waistbands, and blazers forewent visible buttons. Constraint, as a theme, permeated the range, mirroring the emotions that Lopez feels while chasing his breakthrough moments.
"This notion of being 'pulled back' is one that speaks to Lopez as he ascends in the industry but remains ever tethered to his roots," read the collection notes. "He feels this push and pull daily and instead of opting to be on one side or the other, he strives to coexist in both spaces, to maintain balance."
Naturally, Ana bags were the collection's heroes, amping up a majority of the looks with LUAR's sleek flair in varying sizes. Many ensembles opted for sky-high shoulders, another LUAR signature that continues to be a defining factor in the brand's identity. The final round of looks — dresses that draped over the eyes, exaggerated button-down shirts and figure-hugging tops — were all black and finished with small silver jewelry pieces that offered a soft bling.
See LUAR's Spring/Summer 2024 collection in the gallery above, and stay tuned to Hypebeast for more New York Fashion Week coverage.
Click here to view full gallery at Hypebeast
Please follow and like us:
About Post Author
This article was originally published on this site