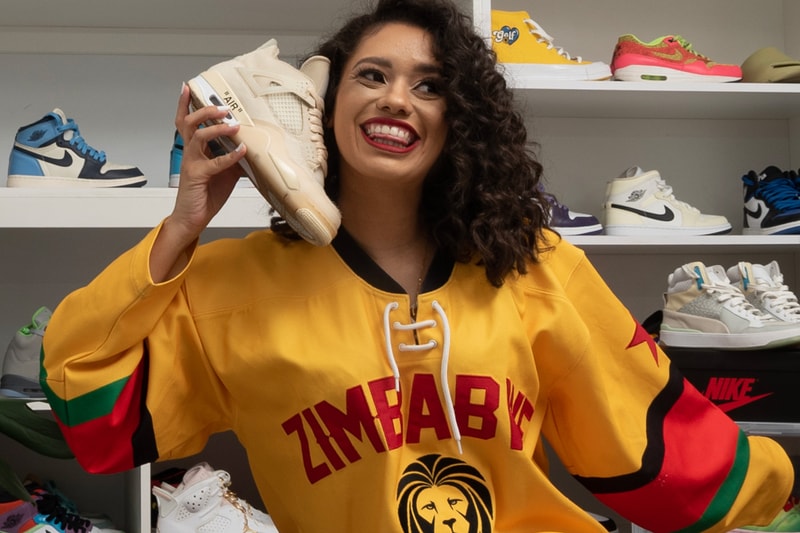 Today, Kim Jayde stands tall as Sneaker District South Africa's head of marketing. Having recently celebrated the store's grand opening, Jayde's commitment to stepping out of her comfort zone has earned her the shoes she fills today as one of her region's proud representatives in the sneakerverse.
Coming from Bulawayo – a small town in Zimbabwe – Jayde's love for sneakers has blossomed alongside her professional career. A former MTV Base VJ and fashion blogger, she managed to cement herself as part of the scene with sneaker content creation and the founding of her production house. Throughout this journey, kicks spoke to her as an opportunity for self-expression. She shared with us that in South Africa, "a lot of the celebrities favor fancy dresses, weaves, nails etc. and I was like yeah, I'm going to do my sneakers and I'm going to do it my way."
In this edition of Hypebeast's Sole Mates, Kim Jayde discusses her love of the Air Jordan 4, the growing focus on women in the industry, South Africa's sneaker history and her work with Sneaker District South Africa.
Hypebeast: What sparked your interest in sneakers?
Kim Jayde: I come from Zimbabwe where I was raised very traditional – ladies wear dresses and heels and boys wear sneakers and shorts. After joining MTV Base as a VJ, I started traveling the world and connecting with artists – oftentimes rappers – and being exposed to all these people and cultures, which was eye opening. That brought me into the world of sneakers tangentially, but it was the first sneaker that a brand seeded me that had me hooked for life.
What's the story behind that pair?
I'll never forget it. It was the FENTY x PUMA Bow sneakers and when they arrived I started crying and remember thinking "they're so expensive and amazing and Rihanna is a goddess!"
How many shoes do you own now?
Definitely over a hundred. At one point, I neared 200 pairs and realized it was too much and that there's actually people that really need kicks. I worked with Special Olympics South Africa and was able to share 60 pairs of sneakers, a fitting way to pass on what I refer to as my "babies."
How did you build up your sneaker collection?
Like many, the Air Jordan 1 was my first love. One day, I walked into a store and an associate recognized me and asked if I was there for the drop. I hesitated but said yes (I didn't know what was releasing that day) and it was the Air Jordan 1 High "Satin Black Toe." After I started rocking 1s, people started reaching out and offering pairs. Before I knew it, I was monitoring drops and importing kicks from around the world that no one else in South Africa had.
"Cigarettes come with a warning, sneakers don't."
It's easy to get carried away quickly.
So quickly! Cigarettes come with a warning, sneakers don't.
Was this your first pair of Air Jordan 4s?
This Off-White™ collaboration was my first pair, it got me into the silhouette and aside from it being fire, I love that it doesn't crease.
How did you get your hands on the Off-White™ x Air Jordan 4 "Sail?"
After I left MTV and started my own production house, I wanted to further dive into sneaker culture. I started the YouTube series "Kickin' It With Kim Jayde" where I interviewed sneakerheads from South Africa and celebrities around the world. For my first season finale, I was able to link with DJ Clark Kent. We kept in touch afterwards and when the Off-White™ x Air Jordan 4 "Sail" drop came around and it wasn't releasing in Africa, I had to hit him up. He was so kind and said he'd put me on "The List." Thanks to him, I paid retail, which is so crazy to me. To think that a girl from Zimbabwe could connect with one of the greatest hip-hop DJs ever to get sneakers – all because of social media – how amazing is that?
What would a Kim Jayde x Air Jordan 4 look like?
It'd have to be a colorway that is easy to style – something in the neutrals with nudes and grays. I would definitely include a reference to my home country of Zimbabwe as well. Not something as obvious as a flag but subtle color inclusions or a small design – a little nod to Africa to say: this is where I come from, we're here now.
Do you think that Jordan Brand does a good job catering to women?
Traditionally, most of us women have felt that the dudes get the dope drops. More than ever now, men are complaining about not getting their sizes on women's drops. It's great that they're catering to us and that more sneaker brands have us in mind. Whether it be producing products, creating women-focused social channels, whatever. I appreciate it because I feel like we were left out for the longest time.
"[Sneaker culture] doesn't see color, gender, or race. If you're wearing heat on your feet, respect."
Can you tell us more about South African sneaker culture?
The impact of apartheid and the financial struggles at the time led many to Converse because of its affordability. As a result, it's the shoe of South Africa in a way and carries a significant history in this country. Nowadays, thanks to globalization and social media, everything goes. There's a beauty in how we see everyone wearing whatever they want. Sneaker culture doesn't know boundaries. It doesn't see color, gender, or race. If you're wearing heat on your feet, respect.
You just celebrated the opening of Sneaker District South Africa. What about the store makes it stand out from the scene there?
Since the height of the pandemic, getting anyone out of the house to buy something is a challenge. What we're doing at Sneaker District – as they've done in Abu Dhabi – is create an experiential store. We have a full-time customization area with artists that can paint your shoes any day of the week, alongside offering heat pressing for apparel customization. Beyond that, Red Bull created a 3-on-3 basketball court and bar while a Crep Laundry setup is available as well. We offer brands from across the world while also providing an amazing experience and building a community for young creators and sneakerheads.
What sneaker brand is on the come up right now?
Reebok is going to make a massive comeback. As someone involved with buys at Sneaker District, I'm privy to looking at the next year's worth of products and it is fire.
"They let a sneakerhead into the boardroom, this sh*t is never going to be the same."
What's it like looking at products early?
It's absolute heaven. When I joined Sneaker District I said "they let a sneakerhead into the boardroom, this sh*t is never going to be the same." Creatives and entertainers that are fans of the culture don't ever get to be in the boardrooms where they make the decisions. Deciding stuff like which influencers to involve, how we speak to the market with our branding, what's the message we're going to present, etc. It's an absolute honor, I feel like a kid in a candy store. Whenever our buyers meet with brands, I gotta be there.
What do sneakers mean to you?
They're a form of self-expression and they empower me to be myself. Going to events and seeing all of the other women in stilettos, my kicks let me be different and go against the grain.
Click here to view full gallery at Hypebeast
Please follow and like us:
About Post Author
This article was originally published on this site