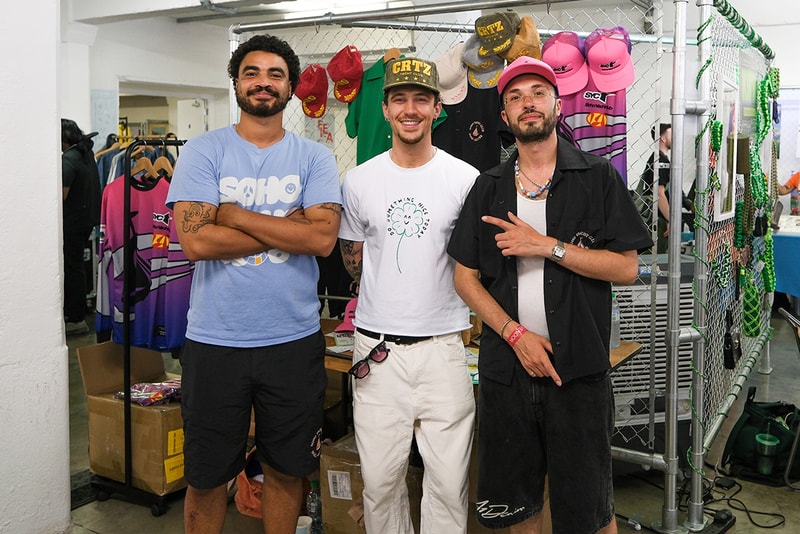 Hypebeast has wrapped up its first-ever marketplace, Hypebeast Flea, powered by Squarespace.
Taking over Truman Brewery in the heart of Shoreditch from September 9 to 10, the interactive and community-led marketplace was a sell-out event – hosting over 3,000 attendees and more than 25 of the UK's most on-point creators and collectives.
Hypebeast Flea championed the next generation of creative talents in the UK, bringing their creative vision and respective communities together like never before. The two-day retail and cultural experience provided a platform for carefully selected creatives to showcase their creations and exclusive drops. Some of the UK's most exciting creative forces, including Slawn, Alhan, Billy Menezes, Cat Burns and Bakar, all pulled up over the weekend to support the emerging, independent vendors taking part at Hypebeast Flea.
 

View this post on Instagram

 
Despite sweltering temperatures in London across the weekend, Hypebeast Flea was widely regarded as "refreshing" by Nosa Aiworo, one hald of one of the weekend's most in-demand vendors, AELIZA. The event brought together a myriad of talent from different backgrounds; Soho Yacht Club and splitdat's showcased their sought-after streetwear pieces; Peachy Den's in-demand womenswear range was a sell-out success; Suez enlightened attendees with pieces that fused Arabic culture with contemporary fashion; while Air Pangea and Sophie Hird reworked old items into beautiful on-trend tees, bags, belts and accessories for all.
Elsewhere, A DNA and Holsales demonstrated their skills as expert sportswear and technical curators, MILK & HONEY's glistening tooth gems lit up the room, AGR Knit and Robyn Lynch swapped the runway for a rampant retail space, Too Hot and Unified Goods delivered plenty of vintage heat and unique paraphernalia, Me Old China sold out of stunning 'swear pots', while Old Old Woods' beautifully curated array of furniture provided the perfect setting to chill out and listen to the sounds of on-point audio experts, Bone Soda.
Hypebeast Flea has also partnered with Levi's® to host its own screen-printing station, teaming up with JEHUCAL, Air Pangea, and Cremate to design their own Hypebeast Flea logos that can be printed on pre-owned denim. Clarks unveiled its new collaboration with Eastpak alongside its Fall/Winter 2023 footwear colorways, while Polaroid hosted an exclusive photography exhibition for everyone to get involved in, while also raffling off a brand-new camera.
Squarespace hosted a dedicated space called the "Best of Squarespace" to spotlight three rising creatives, Angel's Nailz, Clova and Me Old China, who presented exclusive items from handcrafted ceramics to immersive nail art, and more.
Above all, Hypebeast Flea provided a platform for attendees to engage and get to know their favourite brands on a personal level, with several vendors selling out of items across the weekend due to high demand. Hypebeast Flea's easy-going atmosphere offered a social networking space for vendors and punters alike to enjoy across the weekend, with attendees such as Chained&Able's Henry Goodfellow saying: "It was exactly what it should have been and more – long may it (Flea) continue."
In collaboration with 19RINGS, AELIZA, AGR, Air Pangea, Archive DNA, Casper Masi, cent.ldn, Cremate, Holsales, IDA, Jehucal, Johnny Hoxton, Knot Safe For Work, MANORS Golf, MILK & HONEY, Old Old Woods, Peachy Den, Robyn Lynch, Soho Yacht Club, Sophie Hird, splitdat, Suez, Too Hot, and Unified Goods, Hypebeast Flea brought together a diverse community of creatives and like-minded individuals in the UK, for a one-of-a-kind marketplace experience. And who knows – your city might be next.
Click here to view full gallery at Hypebeast
Please follow and like us:
About Post Author
This article was originally published on this site