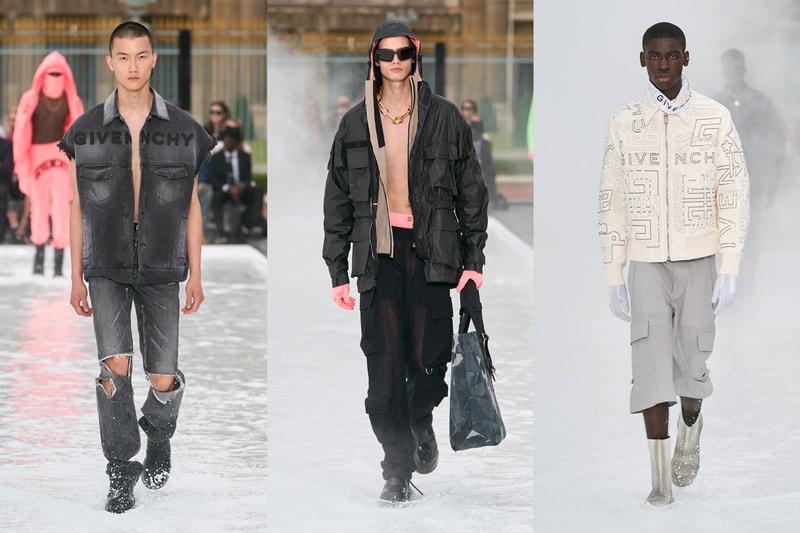 On the second day of Paris Fashion Week, Matthew M Williams staged his first-ever standalone menswear show for Givenchy. The Spring/Summer 2023 collection was inspired by the people closest to Williams, including the artists, designers and musicians who inspire him, acting as a both the modern day menswear world and Givenchy's artisanal heritage.
Williams also looks at classic subcultural uniforms of his native America, interpreting this influence through the Givenchy vision. Stand-out themes include relaxed tailoring customized to replicate the DIY alterations of a schoolboy's uniform, military surplus-inspired embroidered leather varsity jackets and a recurring camouflage motif, shown on tactical vests, cargo pants and technical jackets.
Throughout the collection, the idea of wear-and-tear is championed. Some of the camouflage items are constructed from a white camo covered with ripstop nylon. As they are worn, the white camouflage beneath becomes visible. Elsewhere, overdyed shell jackets and military parkas reference their original fluorescent colors through their linings.
A further highlight of the collection is the footwear, including the recently-teased TK-MX sneaker. Constructed with a mesh and synthetic leather upper, the silhouette was previewed in a range of colorways ranging from subtle black or white to bold silver and yellow, silver and green and black and yellow designs. The collection also updated the TK-360 silhouette with the new TK-360-MID — complete with higher construction and monochrome colorways — as well as introducing a new vulcanized rubber rain boot that arrives in a variety of colorways including "Créme," "Coral" and a spray-paint reflective design.
Unveiling the collection, Williams said:
"Menswear was, quite naturally, the way I discovered fashion. In my practice at Givenchy, my men's collections came from an instinctive starting point. This show is a reflection of myself and the men who surround me, from my close friends to the artists who inspired my work. It's a dialogue with the time and culture that shape the way men dress today and tomorrow: the way new generations embrace and evolve the archetypes and dress codes of the past through their own progressive outlook. It's a thrilling evolution and the reason I have chosen this moment to stage a stand-alone men's show for Givenchy."
For more from Paris Fashion Week, go backstage at Rhude's SS23 show.
Click here to view full gallery at HYPEBEAST
Please follow and like us:
This article was originally published on this site