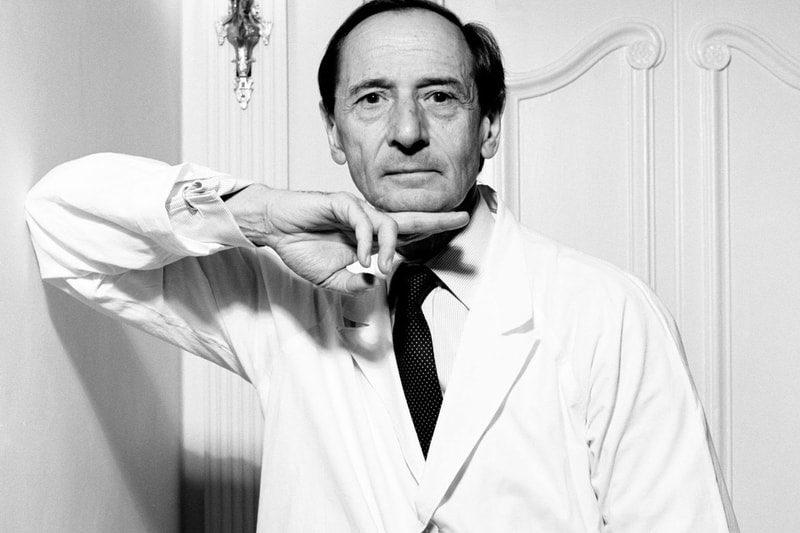 Marc Bohan, the former Dior artistic director who helped the house's most iconic collections take shape for over 30 years, has died at age 97. Bohan's death occurred on September 6, less than a month after his 97th birthday.
Born in Paris on August 22, 1926, Bohan showed talent in drawing and fashion from an early age, and was encouraged in his pursuits by his mother, herself a noted local hatmaker. He first joined Dior in 1957, and created collections for the house out of its London office. It didn't take long for Bohan to rocket to the upper echelon of Dior either, as he took took over the mantle of artistic director in 1961 when Yves Saint Laurent was summoned for military service. Apart from his work creating countless collections as artistic director, a mantle he held until 1989 when he left to work at British house Norman Hartnell, Bohan played a key role in launching "Miss Dior," "Baby Dior" and "Dior Monsieur," ready-to-wear lines for women, children and men, respectively. His work twice won him the "De d'Or," or "Golden Thimble," a prestigious French high fashion award, in 1983 and 1988.
Further adding to his legacy, Bohan dressed Iran's Empress Farah for the coronation of the shah in 1967, and First Lady Jackie Kennedy was so taken with Farah's look, she asked her own designer to copy Bohan's style. He was also close with artist Niki de Saint Phalle and writer Francoise Sagan, and created stage costumes to satisfy his enthusiasm for both theater and opera.
Dior has issued an official statement on Bohan's death — along with quotes from Kim Jones, Delphine Arnault, Maria Grazia Chiuri and Victoire de Castellane — all of which can be seen below.
Dior is deeply saddened to learn of the passing of Marc Bohan, an immense visionary and passionate creator who profoundly marked the history of fashion and of our House, where he was Artistic Director for nearly three decades. His extraordinary creativity, modernity and avant-garde freedom have never ceased to inspire our designers. Our thoughts are with his family and friends.

"Marc Bohan's work at Dior is a huge source of surprise and inspiration for what we do. There is always something new to discover whilst researching his work." – Kim Jones

"Marc Bohan was a unique creator dear to the heart of our House, of which he was Artistic Director for almost three decades, infusing Dior elegance with his free spirit. A man of immense talent who profoundly marked both our history and that of fashion." – Delphine Arnault

"My adolescence and youth were accompanied by the creations of Marc Bohan for Dior. He was a great innovator who succeeded in infusing a charismatic House such as Dior with all the vitality of the Sixties, fully reflecting the spirit of the times. And by dreaming up, with shapes, colors and attitude, a new way of experiencing fashion and interpreting the body through clothes. When I arrived at Dior, I studied his work a lot and he inspired many collections, including one with feminist artist Niki de Saint Phalle, who was one of his great friends." – Maria Grazia Chiuri

"When I was 16, I regularly borrowed dresses designed by Marc Bohan for Dior. They were my first ballgowns, my first couture memories. His contemporary vision has changed the way we wear clothes, the way we look at fashion and style." -Victoire de Castellane
Click here to view full gallery at Hypebeast
Please follow and like us:
About Post Author
This article was originally published on this site