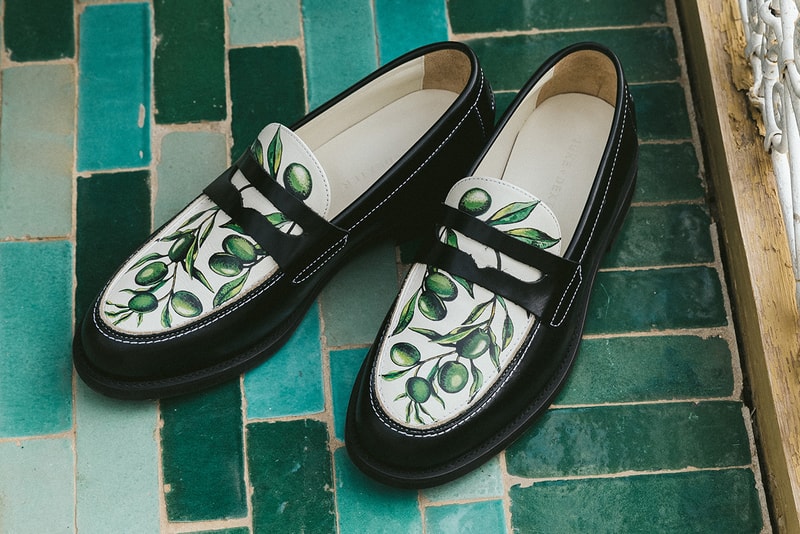 Loafers are often reserved for London bankers, swanky high-flying execs, and aristocrats, but thanks to Duke + Dexter that's all changing. Today, it provides Hypebeast UK with an exclusive first look at its Spring/Summer 2023 collection, taking to the rich cultural hub of Marrakech for "Club Morocco."
Escaping the big smoke of the English capital, Duke + Dexter straps on its finest pairs of loafers, boat shoes, driving shoes and the brand's best-selling-ever silhouette, the Ritchie sneaker, and heads to the sun-soaked world of Morocco. Here, it finds inspiration to relax, enjoy the surroundings and explore, taking the imprint from Marrakech to Old Town Medina, the Agafay Desert and to traditional riads.
With the inspiration set firmly in place, the footwear designers got busy creating printed loafers covered in lemons, olives, and snakes, derived from the brand's in-house 1OF1 painter. These are the luxurious ones on offer, but for something more every day, Duke + Dexter also has you covered.
The Wilde Berber Penny Loafer, borrowing its name from the native Amazigh people of Morocco, sports a white-etched leather design with blue thread detailing, not too dissimilar to the Wilde Rattan design that, of course, weaves a crocheted blend of
silk and wool in the inspiration of wicker.
Elsewhere, mosaic tiles found across the country inform styles like the Wilde Ezra, in turn rounding out the SS23 drop.
Speaking on the collection, the brand said: "You may be wondering why we chose Morocco and the reasons behind packing our bags before relocating to the middle of a rocky desert. In truth, we wanted to get lost. Not get lost physically, but get lost mentally. We wanted to forget about London, we wanted to find our nirvana with those closest to us, surrounded by natural beauty and points of unspoiled bliss. When idealizing everything we hoped Club Morocco could be, we were inspired by a settlement stuck in time – a natural birthplace for our collection of updated classics, rife with complimentary palettes and textures throughout."
Duke + Dexter's SS23 "Club Morocco" collection can be seen in the gallery above, and bought online or in stores imminently.
In other news, Gallucks is bringing elevated essentials to your everyday wardrobe.
Click here to view full gallery at Hypebeast
Please follow and like us:
About Post Author
This article was originally published on this site