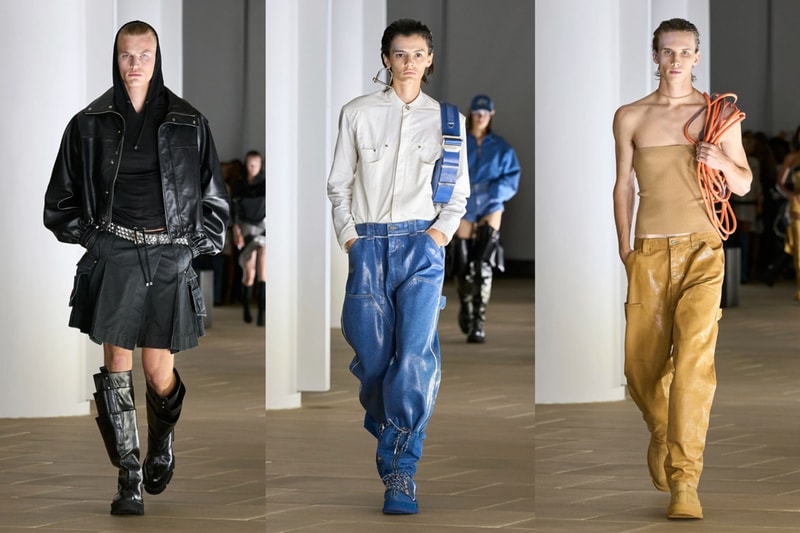 In previous seasons, Dion Lee crafted collections for the club; this season, however, he means business. The Australian designer is among downtowners' favorite ravewear makers, so it comes as no shock that he received approval to stretch the New York Fashion Week calendar to show his Spring/Summer 2024 collection at 10 p.m. on Saturday evening. But to call this line "party attire" would be diminutive: Lee's wardrobe has extended far beyond the lounge, adopting a versatile identity that begins with modernist workwear.
The collection's opening looks quickly confirmed Lee's relishing in utility and construction. Wrenches formed the corsetry on a white button-down bodysuit that was paired with tool-belted, thigh-high boots, and a black blazer exaggerated functionality with multiple leather pockets jutting out from its sides in organized layers. Meanwhile, bulky denim trousers were laminated to shine, and scaffold-inspired jewelry contributed to the line's on-the-job mentality. In his collection notes, Lee calls this "industrial experimentation."
The investigation continued with crushed leather metallics, which formed textural skirts and dresses, in both black and red. Speaking of color, Lee departed from his monochromatic comfort zone this season, embracing a few more vivacious tones than in the past. Among the most memorable, one look featured an orange wire that was plugged into the back of its model's pants and coiled around his shoulder to form a bag.
Trudging further into his toolshed, Lee swapped studs for screws across myriad pieces, and he transformed traditional work boots into small, lace-up tops. Technical pants were oftentimes left folded over, much like undone overalls; and asymmetrical shirting was cinched close with belted hardware.
While heavily workwear-inspired, the collection would not be Dion Lee's without the going-out lewks, which manifested as intricate lace tops, complicated tanks, sectional dresses and the like. Following the show's conclusion, these were put to use at Boom atop The Standard High Line, where Lee capped off the show with a fête, featuring a performance from Ice Spice.
View Dion Lee's Spring/Summer 2024 collection in the gallery above, and stay tuned to Hypebeast for more New York Fashion Week coverage.
Click here to view full gallery at Hypebeast
Please follow and like us:
About Post Author
This article was originally published on this site