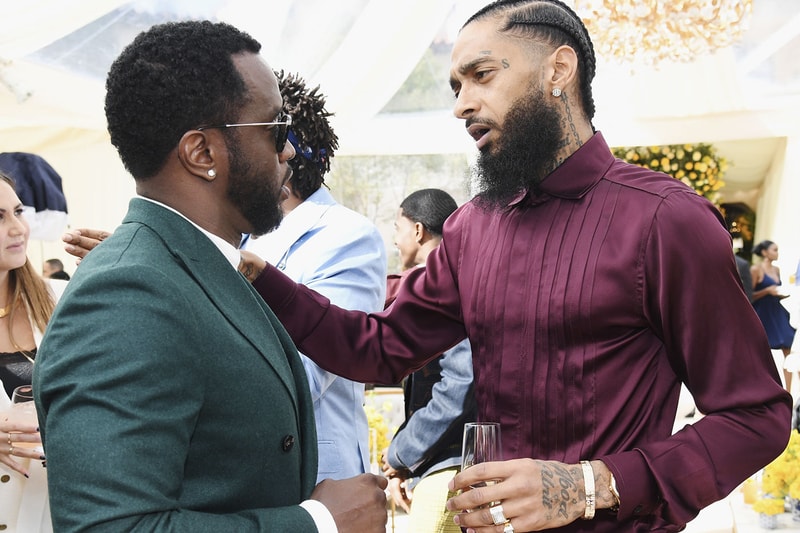 After some speculation, Diddy has finally confirmed to the public that he was one of the executive producers of Nipsey Hussle's Victory Lap.
In a recent interview with Real 92.3 Los Angeles, Puff first revealed that somebody tried to "jerk" him but he fortunately managed to fix the issue. "I'm actually one of the executive producers of Nipsey Hussle's last album," he affirmed. "A lot of people don't know this, we got them to change it in Wikipedia. Somebody at the label tried to leave my name out but he came to me and said, 'I want you to be a part of helping me finish up this album.'"
"That's why I have so much footage of us in the studio because the last five days of him finishing the album, he said, 'Would you come on as one of the executive producers?'" he added. "We had started really getting extra close and tight and then everything happened."
Diddy also opened up about the late artist's willingness to learn anything and everything about the industry — an attitude he admired. "Nip had no ego," he shared. "Nip came to me saying, 'I want you to mentor me, I want to get into real estate. I want you to teach me, all your business secrets!' I was like, whatever you got questions, pull up!"
Elsewhere in music, Blood Orange, Ab-Soul and Mura Masa lead the week's Best New Tracks.
Click here to view full gallery at HYPEBEAST
Please follow and like us:
About Post Author
This article was originally published on this site