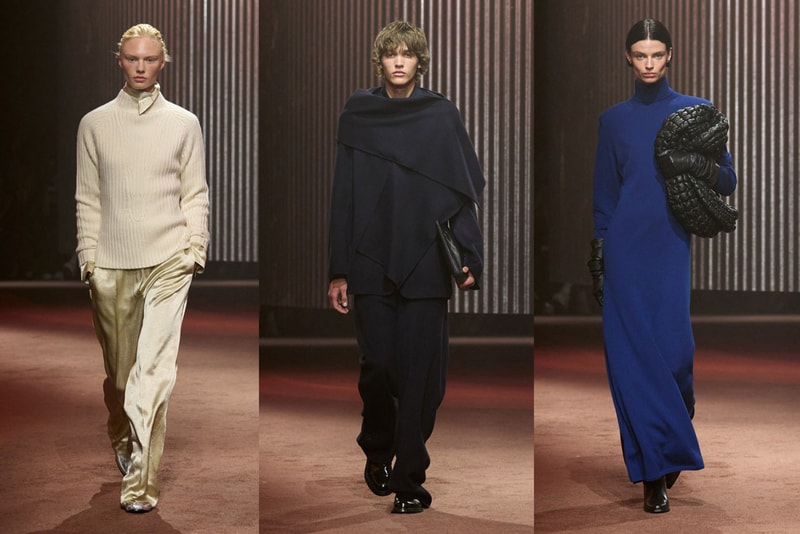 Even though COS was born under the H&M Group in 2007, the brand didn't make its New York Fashion Week debut until last year for the FW22 season. Now the brand has returned to the Big Apple runway to reveal its latest Fall/Winter 2023 collection. But as the brand could possibly be a NYFW staple now, it has upped the ante in brooding chic for the forthcoming season.
With 259 stores in 47 countries, COS has a clear footprint in the fashion space. One that is characterized by a minimalist lens and affinity for easy, yet versatile clothes. Although this is still very much the core of its brand philosophy, FW23 brings in a slightly mysterious personality that is both classic and sexy. Dipped largely in black, the offering spans the fullest extent of one's wardrobe including outerwear, suiting, knitwear, eveningwear dresses, sleek trousers and more.
But what stands out about the ensembles are the updated details that see asymmetrical wraps on knitwear, relaxed yet refined pants silhouettes, sleek shawl overlays and elevated tailoring. But among the offering, key highlights include tuxedo suiting with extra-wide silk detailing, a silver deep shimmer womenswear coordinating set, a speckled buttonless suit that appears to sparkle with the right angle, a deep sea blue turtleneck knit dress, a black sheer ensemble with above the knee shorts and a black leather suit.
Even while remaining in the minimally classic space, COS' new touches of glamour show that the brand is ready to play ball. Take a look at COS' FW23 collection in the gallery above.
Stay tuned into Hypebeast's coverage of New York Fashion Week here.
Click here to view full gallery at Hypebeast
Please follow and like us:
About Post Author
This article was originally published on this site