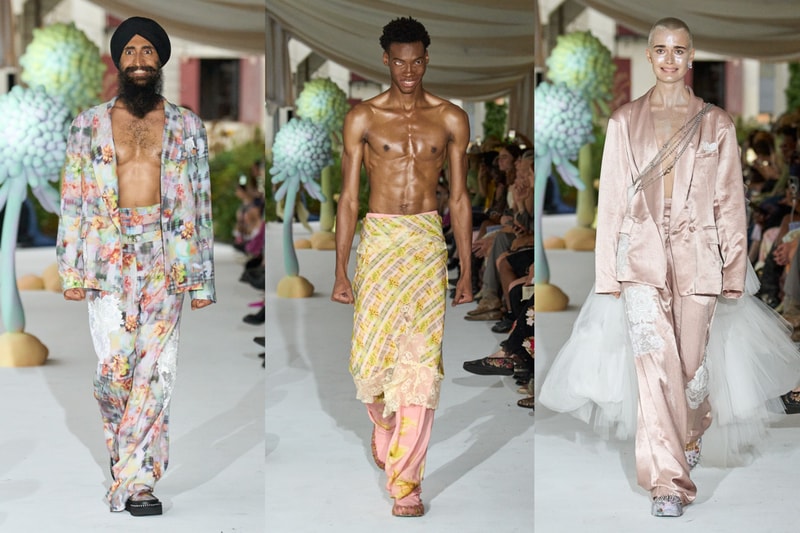 With Collina Strada, you have to expect the unexpected. After unleashing her own (prosthetic) animal kingdown on last season's runway, creative director Hillary Taymour returned to New York Fashion Week for another imaginative showcase — this time, one with whirling models flaunting eery smiles from ear to ear, titled "Soft is Hard."
While comical at first glance, their was a purpose behind Taymour's madness that was detailed in this season's collection notes: "As we grin and bear the excurciating present, in which the world burns and reproductive, trans, and general human rights are under threat, we summon the strength of radical softness." Recognizing the strife of underrepresented communities, Collina Strada looked to champion marginalized voices through universally-feminine fashion (and dance!), offering a reminder of the "power in the pretty" and the "grit in the girly."
The collection began with a sharp-shouldered, artichoke corset, paired with high-waisted satin shorts that were decorated with floral motifs. An identical graphic claimed the brand's Dante Trousers in a subsequent look, and corsetry, too, reappeared in a number of pattern-clad dresses. Denim pants, meanwhile, earned the moniker "Apple Blossom Jeans" for their form-flattering silhouette.
While rooted in the ladylike, the collection was not confined to gender; in fact there were many androgynous pieces, including blush satin blazers, organza tops, tethered tanks, charcoal jeans and banana-plaid boxer shorts, that were delicate but not categorical. With them, I Care a Lot, I Wear Collina Strada books turned into handheld accesssories, and buckled shoes fended off foes with punkish spikes extending from their arch.
Sheer, velvet and lace textiles defined the collection's closing looks, tying the bow on the brand's overarching, womanly sources. In all its weirdness, it was true Collian Strada: fun fashion, worthy double-takes and a clear message. "Femme is fab," said Taymour, in her conclusion. "We call her Mother Earth for a reason."
Explore Collina Strada's Spring/Summer 2024 collection in the gallery above, and stay tuned to Hypebeast for more New York Fashion Week content.
Please follow and like us:
About Post Author
This article was originally published on this site