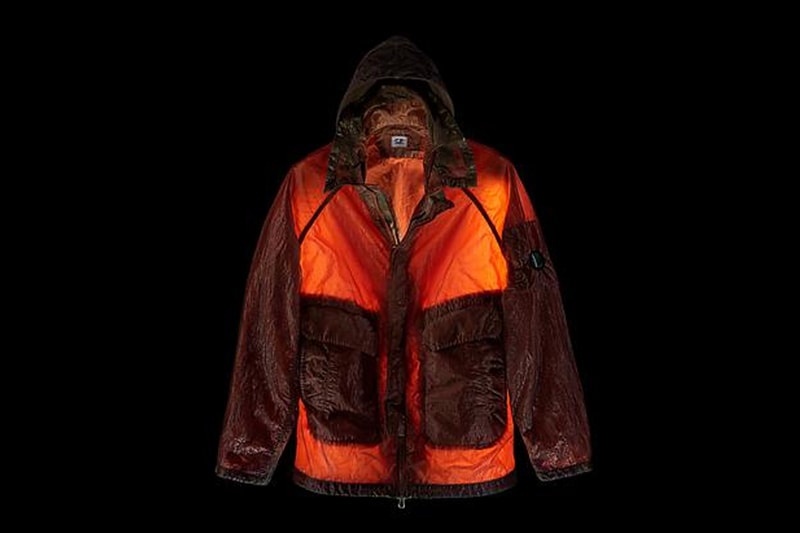 Taking its material science to new levels, C.P. Company has unveiled a new "KAN-D" collection based on a flattened monofilament nylon yarn dubbed "K(c)lear Achronic Nylon (garment) Dyed." The ironing of the yarn makes the "KAN-D" fabric highly reflective and transparent at the same time and so the name was purposely chosen to allude to the candy wrappers from the '50s and '60s which were transparent by nature. With the increased transparency, every seam and finish is clearly invisible, making production of each garment more complicated and challenging.
The SS23 KAN-D collection features a range of pieces in which the proprietary fabric is paired with bright contrasting lining. Jackets come in two variations with concealable and detachable hoods featuring a water-resistant nylon base, front flap pockets, and signature lens details. Rounding out the offerings so far is a crossbody bag fitted with zipped comparments, an adjustable strap, and a technical C.P. Company logo at the front.
"At C.P. COMPANY we believe that the way a garment is made is an intrinsic part of its beauty. The KAN-D pieces are the perfect example," writes the C.P. Company Design Team.
The C.P. Company KAN-D series is now available online. Prices range from $343 to $964 USD.
In other news, Brain Dead and Oakley Factory Team present debut eyewear collection.
Click here to view full gallery at Hypebeast
Please follow and like us:
About Post Author
This article was originally published on this site