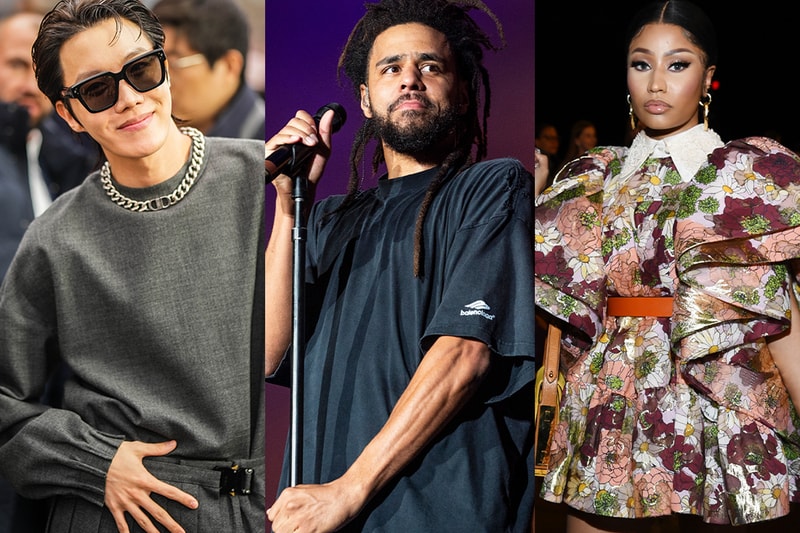 As the week in music comes to a close, HYPEBEAST has rounded up the best projects for the latest installment of Best New Tracks.
This week's lineup is led by J-Hope x J. Cole and Kali Uchis, who released the collaborative single "On The Street" and the album Red Moon in Venus, respectively. Also joining this selection are offerings from 6LACK, Yves Tumor, Arlo Parks, the Dreamville Records artists, Miley Cyrus, Masego and Che Noir with Big Ghost LTD.
J-Hope x J. Cole – "on the street"***
BTS' J-Hope joins forces with J. Cole for his newest single, "On The Street." The track arrives shortly after it was announced that J-Hope will be the second BTS member to enlist in South Korea's 18-month mandatory military service. "We would like to inform our fans that J-Hope has initiated the military enlistment process by applying for the termination of his enlistment postponement," BIGHIT MUSIC shared. "We will inform you of further updates in due course. We ask you for your continued love and support for J-Hope until he completes his military service and safely returns. Our company will spare no effort in providing support for our artist."
Listen: Spotify | Apple Music
Nicki Minaj – "Red Ruby Da Sleeze"
Nicki Minaj drops off her first solo single of 2023, "Red Ruby Da Sleeze." Produced by Go Grizzly and Cheeze Beats, the track samples Lumidee's "Never Leave You (Uh Oooh, Uh Oooh)" and hears the rapper refer to her 2018 Street Fighter-inspired cut "Chun Li" while touching on how she remains as No. 1 despite not releasing anything since Queen.
Listen: Spotify | Apple Music
Kali Uchis – Red Moon in Venus
Kali Uchis delivers her third studio album Red Moon in Venus, featuring Omar Apollo, Don Toliver and Ari Lennox. The GRAMMY-winning artist reveals that "love" is the main message of the record, adding,"Red Moon In Venus is a timeless, burning expression of desire, heartbreak, faith, and honesty, reflecting the divine femininity of the moon and Venus. The moon and Venus work together to make key aspects of love and domestic life work well. This body of work represents all levels of love—releasing people with love, drawing love into your life and self-love. It's believed by many astrologers that the blood moon can send your emotions into a spin, and that's what I felt represented this body of work best."
Listen: Spotify | Apple Music
6LACK – "Since I Have A Lover"
6LACK announces his newest album Since I Have A Lover, out March 24, with the release of the title track. "'Since I Have A Lover', the title track, is the highs of having a healthy love, compressed into song format. It's a note to self, that I'm no longer who I was or where I was, and that there's a bigger purpose starting to reveal itself in the things I create," he shared in a statement. "We are simply pushing love, because it's needed. The verses are short and serve as a moment of acknowledgment for how I feel, and the chorus is less of a lyric and more of a feeling. It's an exhale, it's relief, it's trust, it's happiness, it's surreal."
Listen: Spotify | Apple Music
Dreamville Records – Creed III: The Soundtrack
J. Cole's Dreamville artist roster teams up with the likes of Big Sean, SiR, Syd, Tierra Whack, Kehlani and more to deliver the official soundtrack of Creed III, which sees Michael B. Jordan return as the main character and make his feature directorial debut.
Listen: Spotify | Apple Music
Masego – Masego
Masego shares his sophomore studio album, Masego. The self-titled effort arrives after 2018's Lady Lady and features a total of 14 tracks. "I'm very thankful of the journey. This went from a hobby to a job," he said in a statement. "I was getting all the things that they say that you're supposed to be fulfilled by and I wasn't fulfilled by it. I had to do a re-evaluation of a lot of things. I said, 'I can't make this what I imagined it to be. So I cannot remain here. I need to move.'"
Listen: Spotify | Apple Music
Yves Tumor – "Heaven Surrounds Us Like a Hood"
Yves Tumor prepares for the release of their upcoming album Praise A Lord Who Chews But Which Does Not Consume; (Or Simply, Hot Between Worlds), which drops March 17, with the new single "Heaven Surrounds Us Like a Hood," which arrives with a visual directed by longtime collaborator Cody Critcheloe.
Listen: Spotify | Apple Music
Arlo Parks – "Impurities"
Arlo Parks delivers her latest My Soft Machine single, "Impurities." She tells Apple Music 1, "I think it started off as a celebration of the new community that I'd found in LA, and the people that made me feel like myself, and like I could be myself. And then I started thinking about the idea of somebody completing you and somebody taking on the things about you that you don't like, and somehow saving you. And that double meaning I think was really interesting." Parks added, "I wanted it to feel searching. I wanted it to feel like I was adrift in a way, and then the lyrics then root you in it's the people, the people of the home, and I love the people that make me feel at home."
Listen: Spotify | Apple Music
Che Noir x Big Ghost LTD – Noir Or Never
Che Noir drops her Big Ghost LTD-produced record, Noir Or Never, which features guest appearances from Flee Lord, 7xvethegenius, Planet Asia, Skyzoo, Ransom and 38 Spesh. "I reached out to Big Ghost in 2021, and he sent over a pack of beats to me while I was quarantining after catching Covid for the second time. Noir Or Never has been completed for a minute, we were really just waiting on the right time to drop it, and that time is now. I've been a fan of Big Ghost for a while now so it was dope to finally lock in with him," Noir shares in a statement. "Noir Or Never is definitely a warm-up for what I have in store for 2023. I have a self-produced LP coming this summer entitled, The Lotus Child, that I'm excited about, and I'm working on an album with 7xvethegenius that will come out this year that I'm excited about as well. Stay tuned. I promise I have more to come."
Listen: Spotify | Apple Music
Miley Cyrus – "Flowers (Demo)"
With her album Endless Summer Vacation dropping March 10, Miley Cyrus shared the demo version of her hit single "Flowers," which logged its sixth week atop the Billboard Hot 100.
Listen: Spotify | Apple Music
Click here to view full gallery at Hypebeast
Please follow and like us:
About Post Author
This article was originally published on this site