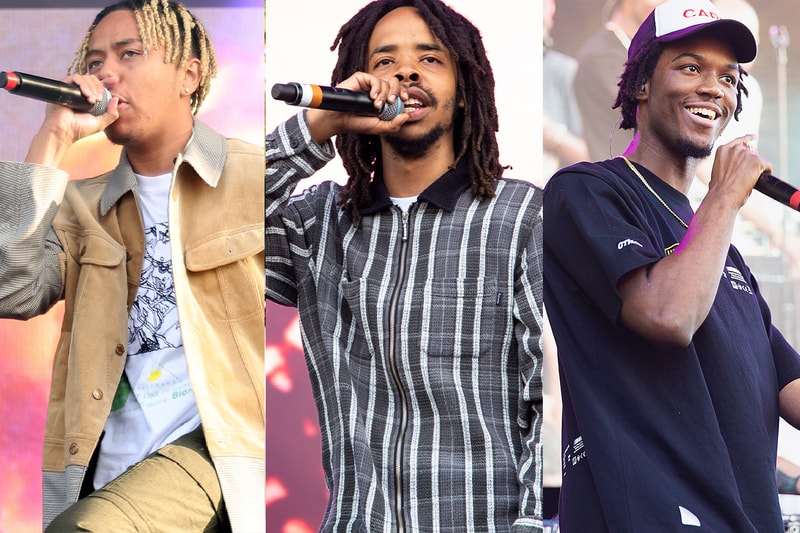 As the week in music comes to a close, HYPEBEAST has rounded up the best projects for the latest installment of Best New Tracks.
This week's list is led by highly-anticipated full-length releases from Cordae and Earl Sweatshirt, who both dropped off From A Birds Eye View and SICK! respectively. Also joining this selection are offerings from Saba and Krayzie Bone of Bone Thugs-n-Harmony, Bonobo, J.I.D with 21 Savage and Baby Tate, EARTHGANG, Murda Beatz with Blxst and Wale, Mitski, Cautious Clay and Robert Glasper with Killer Mike, BJ the Chicago Kid and Big K.R.I.T.
Cordae – From A Birds Eye View
Cordae is finally following up his GRAMMY-nominated debut album The Lost Boy with From A Bird's Eye View. His first full-length release since 2019, the 12-track record features guest appearances from Gunna, Lil Wayne, H.E.R., Lil Durk, Freddie Gibbs, Nas, Stevie Wonder, Eminem and Roddy Ricch, collaborations with Terrace Martin, Raphael Saadiq and Taraji P. Henson and production from the likes of Hit-Boy, Dem Jointz, Boi-1da, MixedByAl and Daoud of Pivot Gang.
Listen: Spotify | Apple Music
Earl Sweatshirt – SICK!
Earl Sweatshirt is finally back after four long years with SICK!, his first studio album since Some Rap Songs. "Sick is my humble offering of 10 songs recorded in the wake of the worldwide coronavirus pandemic and its subsequent lockdowns. Before the virus I had been working on an album I named after a book I used to read with my mother (The People Could Fly). Once the lockdowns hit, people couldn't fly anymore," he said in a statement. "A wise man said art imitates life. People were sick. The People were angry and isolated and restless. I leaned into the chaos cause it was apparent that it wasn't going anywhere. These songs are what happened when I would come up for air."
Listen: Spotify | Apple Music
Saba x Krayzie Bone – "Come My Way"
With Few Good Things set to release in the coming weeks, Saba enlists the help of Bone Thugs-n-Harmony legend Krayzie Bone for the single "Come My Way." In a lengthy statement, the Chicago rapper revealed that he considered "poverty song" as a concept for this track. "This song also takes place in that nostalgic kind of setting. I'm describing many things that are normal on the westside of Chicago, so that it plays like just any other day. Pretty stagnant but having so much life," he shared.
Listen: Spotify | Apple Music
EARTHGANG – "All Eyes on Me"
Olu and WowGr8 continue to spark conversations with their latest single, "All Eyes On Me." The four-minute track follows "American Horror Story" and still touches on the experiences of Black Men in America, with the pair stating, "you survived last year, put your hands up." EARTHGANG's Ghetto Gods drops January 28.
Listen: Spotify | Apple Music
J.I.D x 21 Savage x Baby Tate – "Surround Sound"
J.I.D is kicking off his year with 21 Savage and Baby Tate on the "Surround Sound." The collaboration between the three Atlanta artists is set to appear on his upcoming album The Forever Story, which will mark his first solo album since 2018's DiCaprio 2 and The Never Story in 2017.
Listen: Spotify | Apple Music
Bonobo – Fragments
Fresh off two GRAMMY nominations in the Best Dance/Electronic Recording category, Bonobo releases his latest record Fragments. The English producer is joined by a slate of talented guest artists including Miguel Atwood-Ferguson, Jordan Rakei, O'Flynn, Jamila Woods, 88rising's Joji and Kadhja Bonet on the 12-track album, and fans can catch him on the road starting next month.
Listen: Spotify | Apple Music
Cautious Clay – "Rapture in Blue"
Cautious Clay is set to release the deluxe version of his debut album Deadpan Love on February 11, and he's celebrating the announcement with the release of the first new track, "Rapture in Blue." He's also set to embark on the Karma & Friends Tour of North America and Europe next month, with stops in New York, Los Angeles, London, Paris, Barcelona and more.
Listen: Spotify | Apple Music
Mitski – "Love Me More"
As Mitski prepares to release her highly-anticipated album Laurel Hell, she dropped off her latest single "Love Me More" alongside a music video. She shared in a statement that the cut was written pre-pandemic but decided to keep the song as "some of the sentiments not only remained the same, but were accentuated by the lockdown." She continued, "'Love Me More' went through the most iterations out of all the songs on the album. It's been too fast, too slow, and at some point, it was even an old style country song. Finally, I think because we had watched The Exorcist, we thought of Mike Oldfield's 'Tubular Bells' and experimented with floating an ostinato over the chorus. As we steadily evolved the ostinato to fit over the chord progressions, we began to hear how the track was meant to sound."
Listen: Spotify | Apple Music
Murda Beatz x Wale x Blxst – "One Shot"
Murda Beatz joined forces with Wale and Blxst for his new single, "One Shot." The track is accompanied by a music video helmed by madebyJames, known for his work with the like of Snoop Dogg and Big Sean, which sees the producer as a referee and the two artists as head coaches in a heated game of basketball.
Listen: Spotify | Apple Music
Robert Glasper x Killer Mike x BJ the Chicago Kid x Big K.R.I.T. – "Black Superhero"
As Black Radio turns 10 years old, Robert Glasper will celebrate the anniversary with Black Radio III which drops on February 25 .He joins forces with Killer Mike, BJ The Chicago Kid and Big K.R.I.T. for the lead single "Black Superhero," which arrives with a music video that serves as a love lette to the Black community. "It's an ode to our strength, vibrancy, and joy. We have struggled, and yet we are still here, and not only are we here, but we are so much more than the adversity heaped upon us," director Charlie Buhler said. "I am grateful to Robert and the team at Loma Vista for trusting me with such a powerful and important song, and everyone who came together to help bring the concept to life. It was a true labor of love."
Listen: Spotify | Apple Music
Click here to view full gallery at HYPEBEAST
Please follow and like us:
This article was originally published on this site