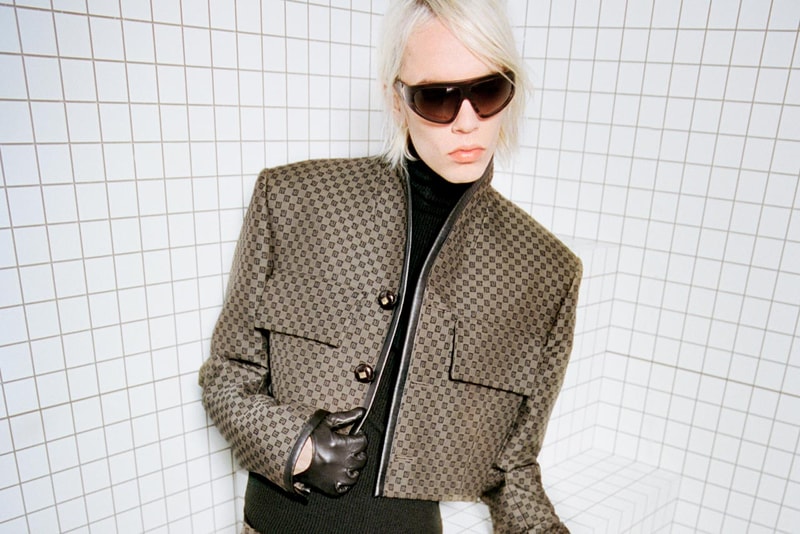 Balmain's Fall/Winter 2023 menswear collection is concise in concept and explosive in practice — that's what creative director Olivier Rousteing wanted. For this season, the designer kept his vision clear, narrowing down the line's message into just four bullet points.
The first note — "Balmain's 'sleeping giant' days are officially over" — was important. When Rousteing interviewed for his first position at Balmain, he was told that the house was a "sleeping giant," seated atop a gold mine of decades-spanning gold. In an effort to uproot and repurpose the old Balmain, the visionary referenced the House's first men's collection, from the mid-1960s, for this season, with a sleek, sophisticated style that lets tailoring do the talking — and effectively wakes the "sleeping giant."
Next, Rousteing cited a quote from Pierre Balmain, the French fashion designer who founded Balmain. It reads, "Le style que l'on ressuscite doit être adapté au présent," which translates to, "a resurrected style must be adapted to the present." Here, Rousteing pushes fashion's evolution forward while referencing the rich inheritance left behind by Pierre.
His third bullet point pays homage to the House's founder in a similar manner: "highlighting Pierre Balmain's graphic talents." Across the collection, Rousteing incorporates Pierre's decades-old graphic spins on the label's iconography — specifically, his hypnotic Labyrinth pattern from the '70s and his next-generation version, which was inspired by Versailles' contrasting marble squares, from the '80s.
Lastly, the designer calls on the words of Ginette Spanier, Balmain's Directrice from 1947 to 1976, for sartorial guidance: "If a seam is not quite right, that is a matter of life and death." The quote is a reference to Paris' couture traditions, which heavily influenced Pierre Balmain's post-war collections. Today, Rousteing shares that "obsession" with the brand's founder, seeking to set the brand apart for its precise tailoring and constructions in this line.
Above, take a look at Balmain's Fall/Winter 2023 collection.
In more fashion news, Oakley tapped Kylian Mbappé for football-infused "Signature Series" eyewear.
Click here to view full gallery at Hypebeast
Please follow and like us:
About Post Author
This article was originally published on this site