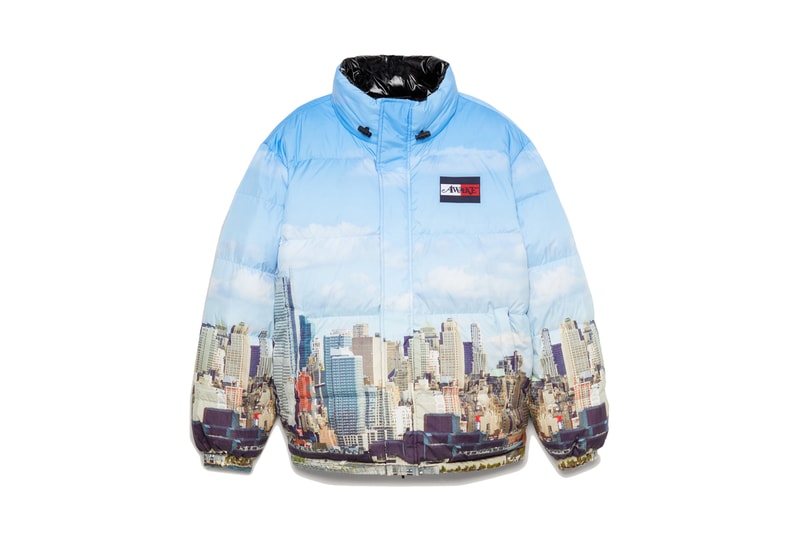 Of all the outfits you put on in your life, few — if any — come with more gravitas than the high school back-to-school fit. It's a chance to make an impression, to showcase the fruits of your summertime glow-up, to stake your claim in the school's social hierarchy as the year begins anew or just to feel like you're on top of the world. That's true all over the world, and it's especially true in NYC, where each and every day is an opportunity to break necks.
"As a New York City high school kid, your fit is everything," says Angelo Baque. Baque would know better than most: he's a born-and-raised New Yorker and, as the founder of Awake NY, someone who's writing another chapter in the Big Apple's expansive sartorial encyclopedia. Baque's belief is one that's shared by Tommy Hilfiger — who describes high school style as a "cornerstone of American youth culture" — and that shared belief is at the center of the new Awake NY x Tommy Jeans collection.
The collection draws from the endlessly influential style of the '90s, but its lens of inspiration is more focused: it's specifically inspired by the aforementioned back-to-school 'fits and how New Yorkers gave them a unique hip-hop twist. Across 17 pieces, the collection communicates its inspirations with reversible puffer jackets that boast a print of the Big Apple's skyline, a daisy-printed fleece with custom branding on its collar, sturdy striped rugbys and even Tommy Girl-style womenswear. Nostalgic without being excessively indebted to the past, it serves as an apt follow-up to Awake NY and Tommy Hilfiger's inaugural collaboration, a track-ready offering created with Mercedes-AMG F1 in May, and is, like so much of what Awake NY creates, a love letter to the city it draws its name from.
In conversation with Hypebeast, Angelo Baque broke down the specific brand of nostalgia present in the collection, talked about the importance of fun in design, touched on the first Awake NY x TF venture into womenswear and even revealed his most memorable back-to-school 'fit.
The nostalgia present in this collection is a very specific brand of nostalgia — back-to-school 'fits inspired by '90s hip-hop. What does that style mean to you, and what makes it such a rich well of inspiration to pull from?
Angelo Baque: It was my youth. When you think back about that time, it was arguably the golden era of hip hop, fashion, and art in New York. And it's not just me dipping into that period, you can see that influence everywhere — whether it's in luxury or streetwear.
When this collection was announced, you spoke of the sense of validation and belonging you got when you were wearing Tommy to school. Feelings like that are so powerful and can be hard to explain — how did you infuse them into the collection?
I purposely included the silhouettes I gravitated towards as a teenager. Rugbys, button-downs and puffers were all considered "power pieces" when I was in high school.
Tommy Hilfiger calls high school style a "cornerstone of American youth." As this collection pays tribute to the students of the '90s, how did Tommy's academic style codes lend themselves to Awake's downtown designs?
Style codes weren't necessarily loaned, but Tommy and other Americana brands have since been naturally influenced from our culture and upbringing.
You previously worked with Tommy Hilfiger on a Mercedes-AMG collaboration for the Miami Grand Prix. How does this next installment build on the shared visual identity you've developed together?
Well, the first collaboration was in celebration of the Miami Grand Prix, specifically with Lewis Hamilton being the muse. This next installment is a more of a focus on my upbringing and influences, how that ties into Awake NY, telling a true New York City narrative.
This is the first time you've produced womenswear with Tommy. Talk us through that process — do you approach those pieces from a different perspective or is it similar?
The approach actually isn't different. At the core, Awake NY is a brand for youth culture. That's always been in the spirt and DNA of the brand. Since day one, we've been showcasing women in our lookbooks and campaigns. It's been really cool seeing women in our community naturally showing out to our events, because our designs were never actually exclusive to men.
"I think there needs to be some humor in design. Sometimes streetwear and fashion can take themselves a little too seriously."
"Do Not Accept Cheap Imitations" can be seen on some pieces in the collection. Though the phrase itself is self-explanatory in a wide sense, what does it mean in the context of the collaboration?
I think there needs to be some humor in design. Sometimes streetwear and fashion can take themselves a little too seriously. There was a t-shirt with this phrase first released in the 90s, so in the context of this collaboration it's a tongue-in-cheek take on bootleg t-shirts.
What are the strongest connecting threads between the two brands that you see?
Tommy and I look alike! [laughs].
Last but not least: What was your most memorable first day of school fit?
A Hilfiger rugby, a pair of Charles Barkleys [the Air Max2 CB 94] and some Girbaud jeans. That was my first day of school fit for sophomore year of high school.
---
The Awake NY x Tommy Hilfiger collection is available now via both brands' webstores.
Click here to view full gallery at Hypebeast
Please follow and like us:
About Post Author
This article was originally published on this site