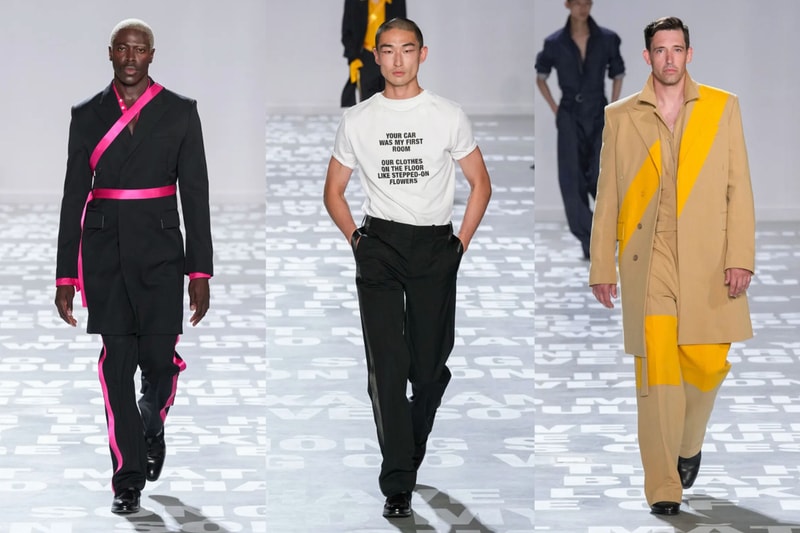 Peter Do founded his eponymous brand in 2018, and he only appeared on the official New York Fashion Week calendar two years ago. Earning a fast rise to the fashion city's upper echelon with his modernist tailoring, and even more buzz for his first line of menswear last season, Do is now seated in the creative director's chair at one of the industry's most distinguished labels, Helmut Lang.
On Friday, Do lifted the veil on his first collection for Lang, a designer whom he has previously cited as one of his main inspirations. "No one embodied radical thinking more definitively than Helmut Lang," Do said when he was named the brand's lead designer. "It is my deep honor to be entrusted with ushering in the next chapter of Helmut Lang's legacy." His Spring/Summer 2024 line, titled "Born to Go," marked his first stab at maintaining a legacy that has had a chokehold on fashion for the last quarter century.
The show began with an essay, written by Ocean Vuong, that detailed the queer experience through the motif of a car: more specifically, the freedom that it offers its driver to hide from the world and "be more than what [they] are allowed to be inside it." In Lang's world, cars (or taxi cabs, rather) proved pivotal in his approach to making noise: he was the first high-fashioner to utilize the top of New York's yellow rideshares for advertising placements.
In the clothing, Do referenced this breakthrough moment with a yellow print that appeared across formalwear, as well as seat belt straps that crossed over their wearer's torso and found an anchor in belt loops on sharply-tailored trousers. Elsewhere, the color palette was predominantly neutral, aside from an effervescent pink tone that wove itself into suiting's details in a similar, safety-first manner.
Vuong's words found permanence on reversed button-down shirts, which feature bold black text reading statements like "Your car was my first room" and "Our clothes on the floor like stepped-on flowers." Those tops are paired with Lang signatures: dressier flat-front pants, pleated leather trousers, bulky-but-casual coats (held in models' hands) and pattern-clad skirts. Androgynous Lang-isms, like such, permeated the collection, while Do's penchant for progressive cuts quietly underscored each look. In his words, he explored a "system of dress," or an embedded versatility in his designs that bolsters an ambidextrous wardrobe.
For a brand that has, for quite some time, lacked a unified vision without a leader, Do's debut begins an electric next era. Lang's shoes are near impossible to fill, but Do has fine-tuned his oeuvre in such a way that his potential to revitalize the retired designer's brand is sky-high. Do's escalation in fashion can be accredited to his intuitive technique; now, it's time to see if he can effectively translate that talent to another brand's repertoire, over the next several seasons.
See Helmut Lang's Spring/Summer 2024 collection in the gallery above, and stay tuned to Hypebeast for more New York Fashion Week coverage.
Click here to view full gallery at Hypebeast
Please follow and like us:
About Post Author
This article was originally published on this site