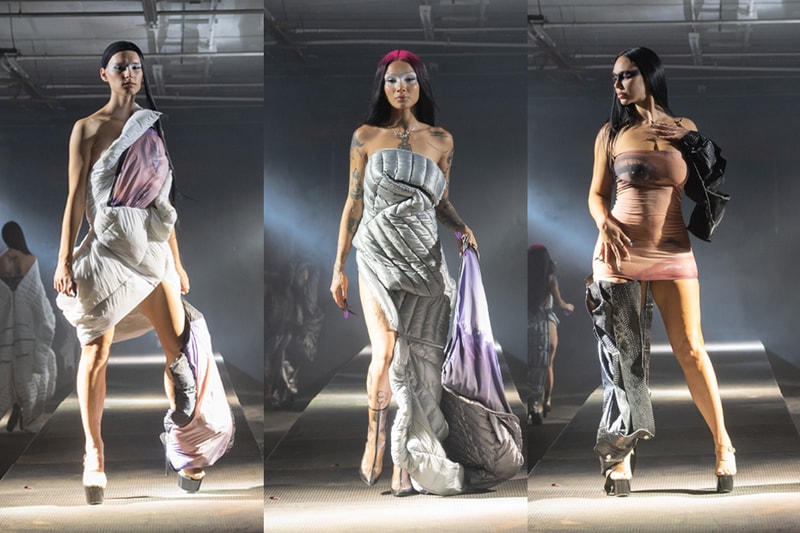 Setting up the brand's longest runway in a concrete-walled warehouse, Anna Bolina hosted its Spring/Summer 2024 collection on Friday, September 8. Featuring 30 looks, the independent designer's lens offers an exaggerated take on the harsh realities of being a party girl during New York Fashion Week: dangerously high heels, precariously placed clothing that covers your most essential parts and perfectly sleek, blown-out hair.
Opening the show with 10 models in her printed tube dresses, the latest collection considers the evolution of the brand's sexy style. Newer fans might recognize the in-your-face slogans on her tube dresses or spotted the brand's logo, which resembles a Parental Advisory warning label, on Playboi Carti's recent tour poster. Creating a contrast against her challenging couture pieces, the designer explains that this tube dress moment echoes how "fashion is just a business, and selling these dresses have made [Anna Bolina] what it has become today."
Playing with a tight color palette, recycled materials like white vests, puffer jackets are transformed into experimental, draped garments. Dresses are lengthened with strips of rubber and latex or secured around models' legs in asymmetrical forms. With the brand's ties to growing cultural movements, models included Tati from the Detroit-based duo Snow Strippers, who wore a hooded look, and CLIP, who wore a one-shoulder puffer dress.
Graphic prints also take center stage in this runway, sourced from original photos and images that represent "different feminine performative energies." To create a conceptual and visual dichotomy, the main prints include a photo of Pete Burns, "who lived their life without staying inside the box of what other people wanted," and Kylie Jenner at the Met Gala, who "has lived her entire life performing to please the public."
Paying homage to the designer's roots in club culture, the show's afterparty featured an equally hardcore line-up with headliner American Idol AKA Yves Tumor. "I needed those years of just being a 'party girl' to create the strong relationships that have made this brand," explains the designer, "Therefore, music and partying will always be interconnected with the clothes. You can't separate them – the clothes are not meant to be daytime clothes. They are for the part of life that's always been the most exciting for me… where you go out and feel sexy, dance and sweat and feel alive."
Longtime friends of the designer can still be found running the show; Sadie, a close friend and avid screen printer, reveals how the designer is still doing long nights at the studio, printing tube dresses before heading to the show. Although the team has expanded, there's still a tight-knit vibe and the original 'Anna Bolina girl' ethos. "She hasn't fundamentally changed, she has just become more evolved and built out," adds the designer, "She's still sexy, but there's depth and frustration beneath the surface. She's growing up – she's seen a lot."
Discover the looks in Anna Bolina's SS24 collection in the images above.
For more New York Fashion Week coverage, discover the crystal skeleton motifs within AREA's collection.
Click here to view full gallery at Hypebeast
Please follow and like us:
About Post Author
This article was originally published on this site