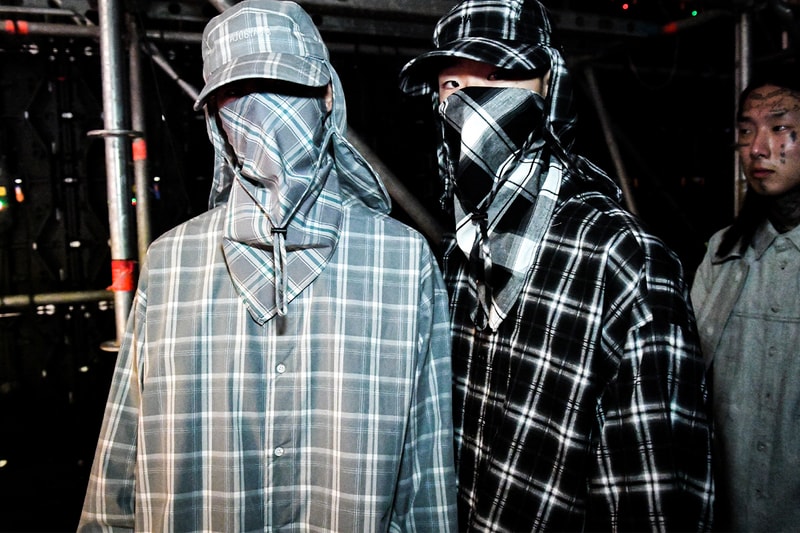 AJOBYAJO continues to be one of the most anticipated brands of the season to hit the Seoul Fashion Week circuit. This Spring/Summer 2024, the collection, which is titled "SHADOW BOXING" places a mirror in front of each individual, asking them to reflect on their inner demons. Posting to social media ahead of the show, AJOBYAJO shared a video of a hand held branded mirror, which was given to each attendee. The caption of the video posed the question, "The one you are fighting against is yourself?" setting the tone for the show.
Taking a page from Gucci's twins show, the collection was presented through a series of twin models, wearing the same or similar outfits down the runway. Staying true to its streetwear roots, the pieces continue to resists stereotypes based on age, gender and occupation. The latest season sees AJOBYAJO go against the grain, taking conventions away from typical storylines, bringing back old-school comfort-focused apparel to the center.
The collection features a string of oversized silhouettes that consist of baggy t-shirts, shorts, button-ups and sweatshirts that feature the brand's signature logos. The collection also includes utilitarian looks that see the brand elevate its looks with tailored suit peaces like trousers and militaristic overcoats. Other pieces include tie-dyed bomber jackets that are both for aesthetic and function in the transitional seasons.
Take a look at the collection above.
In other Seoul Fashion Week news, BLR SS24 is all about youthful rebellion.
Click here to view full gallery at Hypebeast
Please follow and like us:
About Post Author
This article was originally published on this site