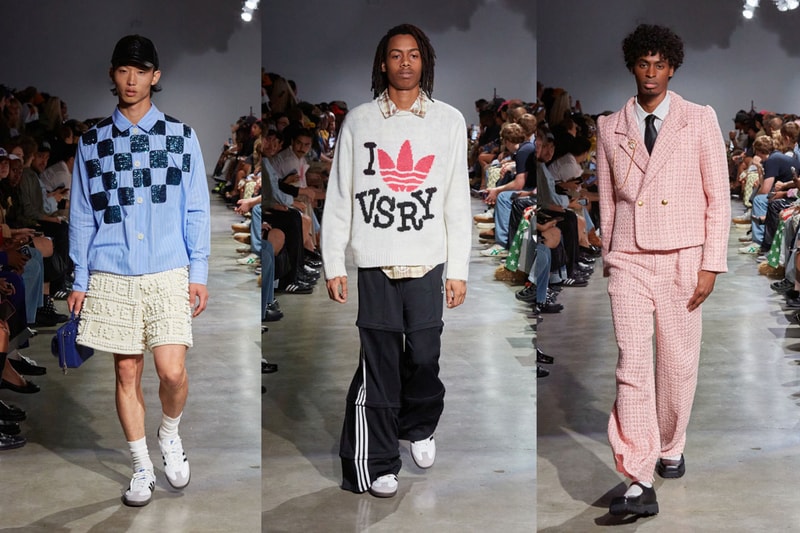 Although Keith Herron's Advisry put its feet on solid ground back in 2014, the brand has been rapidly evolving its chops within the past few years. For example, its season 8 show birthed the first full ready-to-wear collection, while season 9 brought womenswear into the fold. Now with its latest season 10 collection for the Spring/Summer 2024, Advisry is standing tall in its personality.
Entitled "Technicolor," the new collection celebrates not only the evolution of Advisry but the solidification of its multifaceted stylings and design core. As such, the collection's title aptly showcases the brand's journey as it lands on the intersection of color, development and history. With it, the collection offered a little bit of everything – blending formal, prep, sportswear and street styles.
A leading design arc of the collection was the blending of formal and prep styles, which is a key Advisry tactic. However, its execution this time around came to be through a strikingly wearable usage of tweed. The fabric showed its character across shoulder-less blazers, suiting with sculptural shoulder covers, hooded zip-up jackets and multi-paneled dresses. Specific tweed highlights include the opening look, which was a black/deep blue sculptural suit alongside a flamingo pink three-part dress.
Beyond tweed, Advisry's focus on elevated garments was revealed by pinstripe sitting and tops in white, satin high-waisted trousers, cascading black and blue dresses in sheer and silk fabrics, a royal blue velvet cropped two-piece set and eye-catching cacoon tops/dresses in bubblegum pink, goldenrod and cobalt blue.
Exiting the formal, Heron also presented a vision of sportswear through wide-led track pants, an oversized sweater and a thick collar zip-up jacket in collaboration with adidas. Regardless of the category of style, it is clear that season 10 for Advisry marked the confirmation of versatility, elevated development and an established brand core.
"With the Technicolor collection, I want to share a color story that goes through the history of color processes in film that results in Technicolor, to symbolize the evolution of aesthetic technologies," said Herron. "This color story will epitomize the growth of the brand itself – with this being the finale of the numbered seasons, from 'Black & White' to 'Color.'"
Take a look at Advisry's SS24 collection in the gallery above.
Elsewhere in fashion news, Grace Ling's NYFW debut continues her anthropomorphic vision. 
Click here to view full gallery at Hypebeast
Please follow and like us:
About Post Author
This article was originally published on this site